Note: This is an unlisted page. If you wish to return to it later, be sure to bookmark it.
Erika Overturff
Inspired by the spirit and stories of the American West — as well as Joslyn Art Museum's current exhibition — American Midwest Ballet's founder and artistic director, Erika Overturff, brings her much anticipated original ballet Go West! to audiences in Momentum.
Erika discussed the creative process and influences behind Go West!, a nostalgic look at the rugged yet beautiful Western landscape woven through a series of short stories told through dance.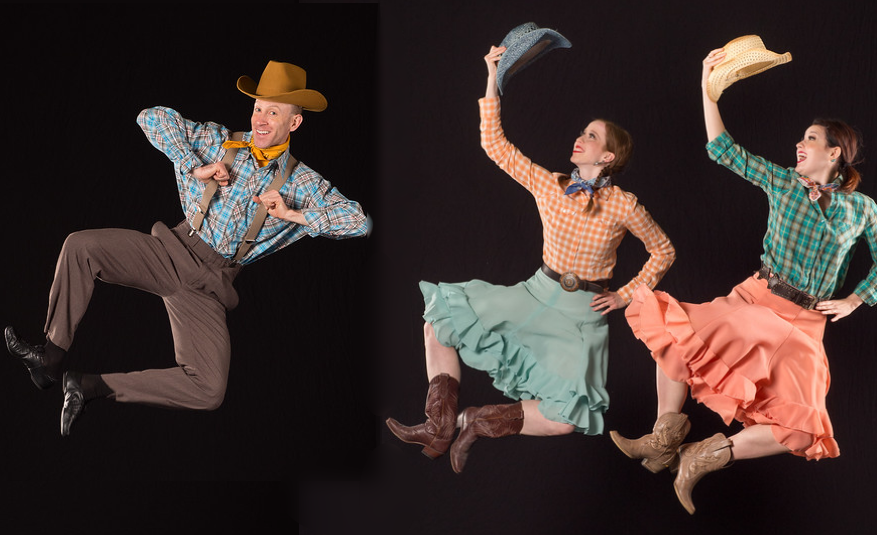 When you are working on a ballet where the subject is already decided — as with the ongoing collaboration with Joslyn Art Museum — how does that unfold for you?
When creating a ballet in celebration of an art exhibit, the subject of the exhibit is what inspires the theme of the ballet, but the movement itself is always inspired by the music. With Go West! I found songs that told stories; that painted pictures with words. The lyrics together with beautiful melodies and exciting rhythms provided wonderful inspiration for these dances.
Tell us a little bit about Go West!
In the opening of the ballet, I wanted to capture the excitement and energy of traveling west — wide open spaces; new opportunities; limitless possibilities. Think land rush. Other scenes visit a lonesome wanderer drifting along with the tumbleweeds, a man longing for his lost love, weary and thirsty travelers, raucous cowboys riding the herd, pioneers with a love for the land, lightning-quick yodelers, and exuberant square dance couples.
What was your biggest challenge creating this dance?
The logistics of casting and costume changes. This ballet involves all of the dancers in the company in 14 different dances. I knew who I had wanted to cast in a particular section, but making all of the sections flow together in an order that makes sense and creates a cohesive ballet, and also avoids dancers being in back to back sections, is tricky. It's a big web, but there is always a solution!

What qualities were you looking for in your dancers that you wanted to see reflected in your work?
One of my favorite qualities is musicality; being in a perfect union with the music. I also look for personality. I like to inject a bit of humor. Performance quality is so important to me because – whether we can make you smile, bring a tear to your eye, or make you laugh out loud- we want to connect with people on an emotional level.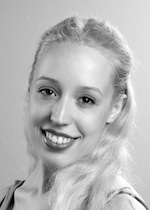 When did you first begin choreographing?
I was choreographing even as a young child. I remember creating a full Cinderella in my friend's basement with a cast of only four — my friend and I, plus our little sisters. There were also school talent shows and many living room performances. As a teen, I choreographed many dances for the students at my aunt's dance school. I went on to choreograph in college and then professionally.
How does performing compare to the process of creating pieces for others? What do you love about each?
While performing can be very fun, it culminates with you onstage and carries with it the pressure to execute difficult steps in a technically correct manner. You have to keep in mind technical corrections you've received in rehearsals and hit your correct spacing, while at the same time not getting too caught up in those things; equally important is connecting with the audience and being genuine in the moment. I love big, sweeping movements and big jumps.
For me choreographing is about playing in the studio, having fun, and refining ideas. It is a process I greatly enjoy!
What would you like people to remember about Go West! when they leave the theater?
I hope the energy we share is catching- whether people leave humming a tune, thinking back on a favorite moment, or realizing they simply must add a pair of cowboy boots to their wardrobe!
Go West! is showcased in American Midwest Ballet's Momentum: Go West! Tickets are available online for April 1 at Joslyn Art Museum and April 3 at Arts Center at IWCC.
.
Black Swan pas de deux from Swan Lake (Marius Petipa)
OMAHA — March 22, 2016 — American Midwest Ballet brings the Black Swan pas de deux from the legendary ballet, Swan Lake, to life in Momentum: Go West! at Joslyn Art Museum on April 1 and Arts Center at IWCC on April 3.

Taking on the role of Odile the Black Swan — arguably one of ballet's favorite bad girls — is company dancer Erin Alarcón, with Matthew Carter as the smitten and tormented Prince Siegfried.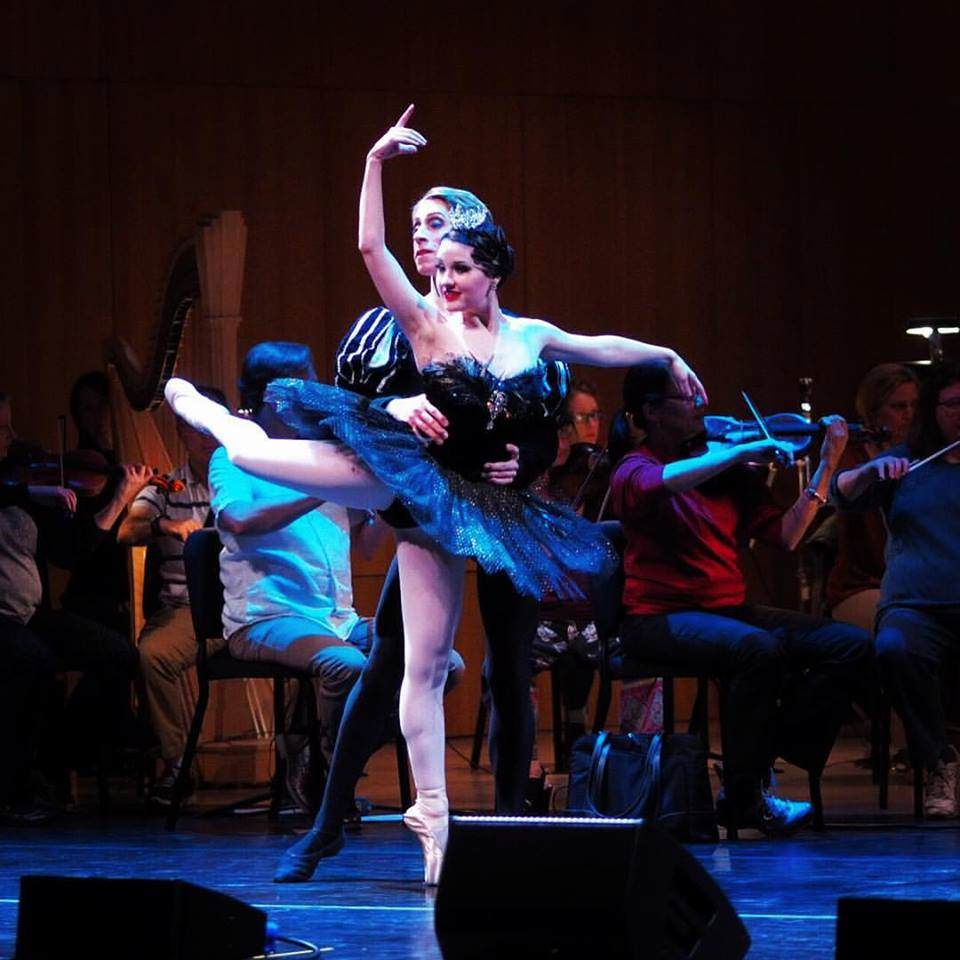 Carter, who also serves as the company's ballet master, staged the pas de deux along with partner Alarcón, with additional coaching from longtime company instructors, Judy Leppek and Michele Starbuck.
"It is interesting to showcase the Black Swan pas de deux separately from the full length ballet Swan Lake," said Leppek. "The excerpt allows Erin to be spicy and sly but also regal, whereas in direct contrast with the White Swan, her character would be much more sinister."
Odile is a departure from most characters Alarcón has portrayed.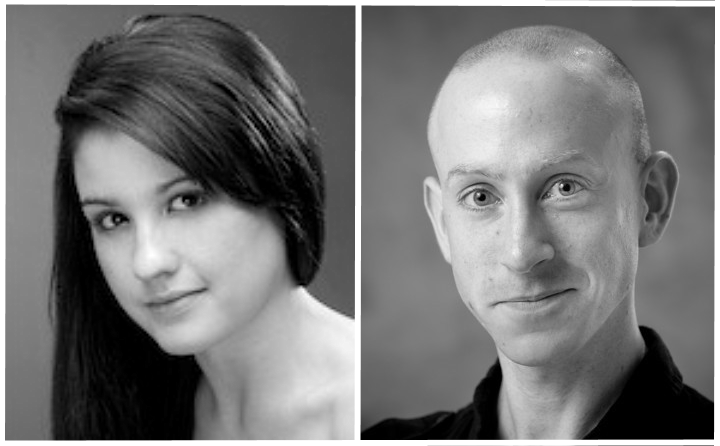 "Odile is evil, coy, aloof, and cunning," says Alarcón, who compares getting into character with the feeling of putting on a favorite outfit. "That inner confidence immediately changes the way you move on the outside."
Having portrayed Siegfried in past guest engagements, Carter considers the prince "a bit of a dolt" in the context of this pas de deux.
"Odile continually snubs and toys with Siegfried, yet he continues to shower her with affection," says Carter. "I try to relate Siegfried's scenario to something most of us can identify with: when we are in love, sometimes our judgment is clouded and we behave in ways that we may not otherwise."
In coaching the work, Leppek enjoyed bringing out the unique qualities of each dancer.
"Matthew has the ability to make everything look effortless, especially his jumps," says Leppek. "His role is quite difficult. Siegfried's variation and coda include huge jumps and turns. Matthew already excels at these things, so I focused on getting him to push himself beyond his comfort zone."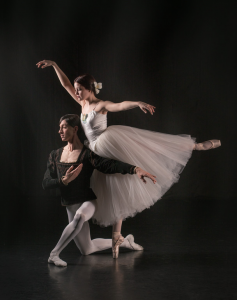 "Erin moves quickly with ease, has wonderful footwork and a very flexible back," says Leppek who concentrated on blending Alarcón's technical and artistic strengths. "Black Swan pas de deux really captures Erin's versatility."
Having talented dancers with "amazing work ethic" made the rehearsal process easier, according to Leppek.
In addition to working well with their coaches, the dancers appreciated the opportunity to work with each other again.
"I enjoy dancing with Erin because of the trust that we have established," says Carter. "As frequent dance partners over the years, we've come to know what to expect from each other. There is a comfortable synergy in the way we both move and approach our roles."
Alarcón agrees about the level of trust and consistency between the two. "What's wonderful about dancing with Matthew is that I completely trust him and don't hold back, which leads to consistency in our dancing," she says. "We've performed so many different roles together. I'm looking forward to this new one!"
Black Swan pas de deux is among the featured works in Momentum: Go West! Tickets are available online for April 1 at Joslyn Art Museum and April 3 at Arts Center at IWCC.
.
Adam Schnell
OMAHA — March 1, 2016 — Of the many hats worn by artistic director Adam Schnell of Ballet Vero Beach (Florida), his favorite is that of cook. "If I can get in the kitchen during the day to make dinner," says Adam "somehow everything seems better."
Adam will swap his chef's hat for that of guest choreographer as he shares one of his creations — made in the dance studio this time — with American Midwest Ballet this April. The powerful and compelling Finch Concerto makes its Omaha premiere in American Midwest Ballet's Momentum: Go West!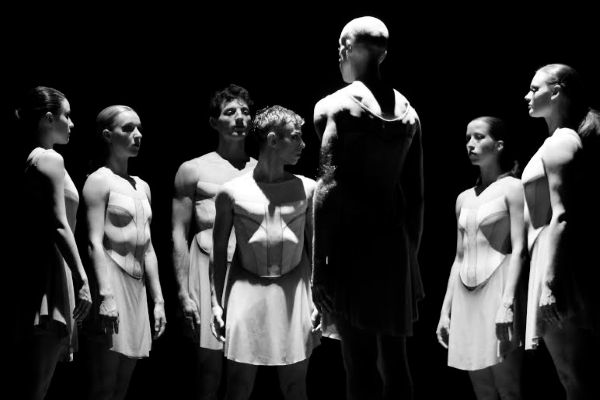 Tell us about Finch Concerto
Finch Concerto reflects my journey in becoming an artistic director. I wanted to explore themes of leadership and how an individual can influence others into seeing things from their perspective.
The 'Finch' in Finch Concerto refers to the composer Catrin Finch whose work is the music for your piece. How did your relationship come to be?
I actually heard Catrin Finch's Celtic Concerto while driving down the road listening to NPR. I immediately contacted her management team and secured the rights to choreograph to it. Not only is it her first ever composition, but I am the first choreographer ever to put his mark on the work.

What are you trying to share with the audience through this work?
First and foremost, the amazing score itself; I cannot believe how much the dancers and I love this music. It actually brought people to tears when we were creating it. I just hope people come away from the piece thinking about individual versus group dynamics. I am fascinated by all that!
What would you like audiences to remember about Finch Concerto?
I just want them to have a good time! The greatest compliment I have received in my career was that people came to see Finch Concerto more than once at its world premiere in Florida. People called up their friends upon leaving the matinee and came back with them to see it later that evening. I am so happy to have my work seen by Omaha audiences again.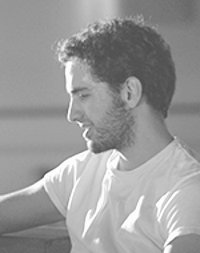 When did your interest in choreography begin?
I'll leave the embarrassing stories about choreographing for stuffed animals and ceramic figurines as a child aside. My first choreographic steps were in musical theater. I choreographed a production of Gypsy when I was thirteen.
Whose work inspires you?
Samuel Kurkjian without a doubt; he was my mentor in school. He didn't teach me to choreograph, but invited me into the studio to watch him work. Samuel had such an impact on me that two of his works remain in my company's permanent repertoire. I am inspired by all those who choreograph musically and with integrity and honesty.
Do you feel there is one quality that remains constant throughout the works you create?
Again I would say musicality. All of my dances spring forth from the music. Beyond that, there will always be a classical element to my work. No matter what, classical ballet still inspires me. There isn't anything quite like it!
How does performing a work compare to the process of creating a work?
Yikes! This is going to come out way wrong, but I think as a performer, you have to be selfish; as a choreographer, you have to be selfless. My favorite thing about both is that each can be totally insular. Both as a performer and choreographer, you can completely disappear inside a piece. That is a wonderful thing.

Do you still dance?
I don't dance anymore. I still take class, but I do not appear on stage. I joke that if the audience was paying enough, I would make an appearance…so far no offers!
How did that transition come about?
Honestly, the transition came about because I was tired. I wanted to make way for the next generation. I knew I did not have the hunger that one needs to be a professional dancer. I miss being onstage every single day though.
What is a typical day for you in Florida?
In a word: hectic. I usually try and get into the studio between 7:00 and 8:00 a.m. to do at least a barre. Then it is off to the office — my dining room table — to work on Ballet Vero Beach stuff. I do choreography for the drama troupe at the high school, so most weeks I have to take a break midday to go work with them, not to mention meetings, etc. My teaching day starts between 3:30 and 4:00 p.m. and I usually teach two to four hours a night. Wow, in reading that back, I should probably be sleeping now.
We are excited to have you back in Omaha. What have you missed about the Big O? Do we even call it that anymore?
I absolutely refer to it that way! It is all about the food. If I don't get [to eat at] Greek Islands when I am in town, I kind of have a meltdown.
What are some things you still want to do in dance?
For me, it is now all about giving the next generation a chance to do some of the things I got to do. It is all about giving back to young dancers, choreographers, musicians. I am so thankful to have the opportunity to work with our dancers and bring the art form to which I have devoted my life to as many people as possible.
Adam Schnell's Finch Concerto is among the featured works in Momentum: Go West! Tickets are available online for April 1 at Joslyn Art Museum and April 3 at Arts Center at IWCC.
.
Erin Alarcón
OMAHA — March 7, 2016 — Audiences are accustomed to seeing Erin Alarcón dancing iconic roles such as Odile in Swan Lake, the title role in Giselle, and Sugar Plum Fairy in The Nutcracker. This spring, Erin takes on another of her favorite roles: choreographer.
Erin's movingly personal new work, One in Three, is featured in American Midwest Ballet's Momentum: Go West! April 1 and 3. We spoke with Erin about her work, her process and her inspiration when choreographing for the company.
Tell us about your new piece:
One in Three is a contemporary work for twelve women that explores the idea of the female warrior. I have been fortunate in my life to be surrounded by many strong women and I wanted take a moment to celebrate them. On stage you will see me play with the idea that as dancers, we can be both delicate and graceful as well as strong and powerful.

What does the title One in Three mean?
One in three women will experience a physical or sexual assault. This is a statistic that hits home for me as some women in my life have gone through this. I have heard and observed how often times these women are made to feel shame or as if they are the ones to blame. We must stop tearing down these survivors and start seeing them as people; as our mothers, daughters, sisters, best friends, and coworkers — because they are. One in three; let us rise above this statistic together.

When casting this piece, what qualities were you looking for?
I knew I wanted a large cast of all women -sorry boys! It was fun figuring out how I wanted to utilize each of the dancers. Every one of them has something special about their dancing. For example, Katherine Eppink has some of the most spectacular allegro work and Chloé Watson plays really well with texture in her movement. I wanted to hone in on their strengths and highlight them for the audience.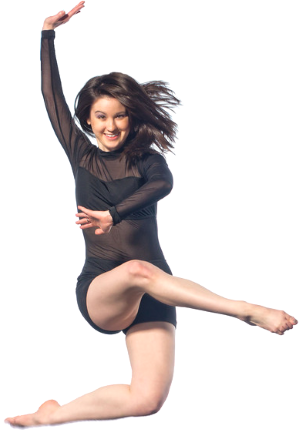 What was the biggest challenge and the biggest joy for you in creating this dance?
The greatest challenge in creating this piece also turned out to be the greatest joy. I had twelve incredibly talented professional dancers to work with so there was no limit to what I could give them. Having no restrictions meant having the entire dance "dictionary" to choose from.
What do you hope One in Three will convey to your audience?
Recently I feel as if there has been a lot of attention on what it means to be a woman. If you look, you can find media coverage telling you "this is how you can be a great wife, mother, daughter, sister, best friend etc." While I think those relationships are important, I also think it is important to allow women to define themselves as individuals with their own ideas and stories to share.
What do you consider when you begin to choreograph a new work?
For me, it's all about the music. I am constantly listening to music but I know instantly when I need to choreograph to a piece.
Do you feel there is one quality that remains constant throughout the works you create?
Patterns. I love looking at how dancers transition from one formation to another. For that reason, my favorite place to watch dance has always been the balcony. Swan Lake Act 2 from the balcony is magic.
When did you first start choreographing?
I can't remember a time I haven't choreographed! My dad shared his love of music with me from a very young age. He always had something playing in the house or in his car. Every time I would listen, I'd always create "music videos" in my head and eventually they transformed into dances.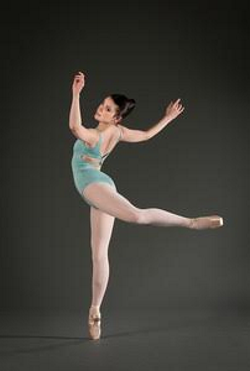 Who are your biggest inspirations as a choreographer?
That's tough. Of course there are the big names like William Forsythe and Jiří Kylián but I think it's important to be inspired by the people around you. A good choreographer, like a good dancer, is always looking to learn and expand one's movement vocabulary.
How does performing a work compare to creating it?
Contrary to what one might think, in performing I feel as if I have more control over the outcome of the performance. I'm the one guiding the audience through the movement and taking them on a journey with me. As a choreographer, you have to allow your dancers that freedom, which is always exciting to watch.
Do you enjoy dancing in your own works?
I usually like wearing one hat at a time. That being said, I do enjoy performing in collaborative choreography say in a pas de deux or trio.
What are some things you still aspire to do in dance?
I would love to tackle the daunting and exciting task of choreographing a full length ballet. On my list are Anastasia and The Crucible.
Erin Alarcón's One in Three is among the featured works in Momentum: Go West!  Tickets are available online for April 1 at Joslyn Art Museum and April 3 at Arts Center at IWCC.
.


Thom Dancy
OMAHA — February 23, 2016 — This April, dancer and choreographer Thom Dancy of The Big Muddy Dance Company (St. Louis, MO) brings the unconventional and lauded You've Gotta Be Kidding Me! to American Midwest Ballet's Momentum: Go West!
We recently had a chance to talk to Thom about this brilliantly zany work.
Tell us why you created You've Gotta Be Kidding Me!:
This piece was originally commissioned by Patricia Barker, former principal ballerina at Pacific Northwest Ballet and artistic director at Grand Rapids Ballet, for a dancer's retirement send-off. It stems both from the concept of leaving the world of classical ballet behind and the love-hate relationship all dancers share with our technical progress. You love dance, yet you cry over it. Such a relationship with an art form is incredibly fascinating.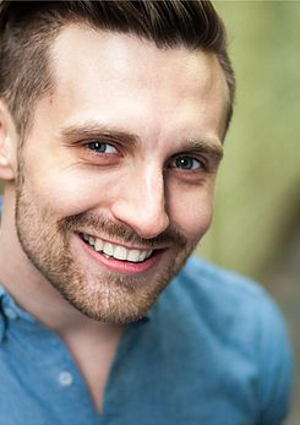 Audiences will immediately notice a mischievous and playful quality to this piece — similar to your spirited and highly entertaining work Prom and Sensibility. Is this the style of work you prefer to create?
Thank you for the compliment! Yes, I gravitate toward work that pokes fun at itself. I like to laugh, and seldom take myself too seriously. I think the choreography I produce is my personality transferred to the stage.
It is refreshing and rare to see a work created specifically for two male dancers. What qualities were you looking for when casting this piece?
One tall and one short dancer! Beyond that I also needed a virtuosic dancer who had the ability to act, which is hard to find.
One of the roles is thoroughly dynamic while the other is static and nearly immobile. What are some of the challenges of each role?
Beyond hitting the steps, the person in the dancing role — the shorter dancer — has to stay constantly engaged in the playfulness of the character. The short guy loves the tall guy; he hates him; he pushes him; he moonwalks away. It is a test of how engaged within a character the dancer can stay. The tall man has to fight laughter the entire time. The climbing scene in particular is no easy feat. He has to stay grounded and look like he isn't helping another man to scale him like a wall.
Who are some of your biggest influences?
I love Harrison McEldowney's work. He is one of the few people I know that successfully plays with humor. The way he works reactions into a story line is incredible. I also love the works of Sol León and Paul Lightfoot, as well as Crystal Pite — works that are based in ballet technique, but where intricacies beyond the norm have been explored.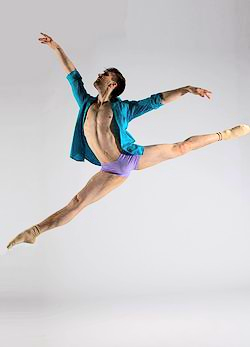 How did you first become interested in ballet?
I discovered dance in college. I was training to be a classical singer when my vocal instructor suggested I pursue musical theater. I love musicals, but after seeing my first ballet I was hooked.
Do you consider yourself primarily a dancer or a choreographer?
I consider myself evenly split between the two. I love both!
How does performing compare to the process of creating pieces for others?
In performing, especially in newer contemporary works, you have to silence your individuality in the studio and become a blank slate to be created on and have work translate through you. You will always move in a way that is distinctive to you. You should expose that for choreographers to use, but you have to be open to what a creator needs. As a choreographer, you get to let your inner individual completely thrive. The beauty of being both dancer and choreographer is that I can take the lessons I learn when I am the "paintbrush" for another choreographer and translate them to how I work when I am "the painter."
Do you dance in any of your own works?
No, I do not dance in my own works. They're too hard – haha!
What would you like people to remember about You've Gotta Be Kidding Me! when they leave the theater?
That it made them smile, and that I told them a unique story.
What are some things you still aspire to do in dance?
There are a few choreographers whose work I would still like to dance, and eventually maybe make a shift to musical theater. I think a year on a national tour could be a lot of fun.
What inspires you to get up every day and do what you do?
The people I work with at The Big Muddy; the way some of them move and the desire that we all have to make a name for St. Louis keeps me going and excited to dance. After so many years together, we are a loving, albeit dysfunctional, family!
Don't miss Thom Dancy's You've Gotta Be Kidding Me! featuring American Midwest Ballet's Sasha York and guest artist Camilo Rodriguez in Momentum: Go West! Tickets are available online for April 1 at Joslyn Art Museum and April 3 at Arts Center at IWCC.