Josh is a 6-year-old kindergarten student. He is a great kid, but he struggles with some attention and behavior needs. When he is feeling antsy and needs a movement break from his classroom, he comes into the principal's office for hugs and fist bumps.
After a visit to the ballet this fall, Josh stopped by the principal's office to check in. She asked him how he liked the ballet and he said "It was fantastic!"
When she asked him what was fantastic about it, he said "There were dancing animals! I have never seen dancing animals before!"
His teacher said that he has never seen Josh sit still and pay attention for more than a few minutes at a time, but he was captivated the entire time with what was happening on stage."
YOU have the opportunity to share the joy of dance! Thanks to generous supporters like you, Josh and thousands of other children are swept away through the magic of their first-ever live ballet performance.
It Takes $1.8 million to produce:
the breathtaking performances you love
the inspiring education programs you send your children to
the engagement programs that uplift people from all walks of life in our community
Over $900,000 of that comes from our amazing supporters like you. We've already raised about $550,000 of what it will take to keep sharing the joy in Season 11!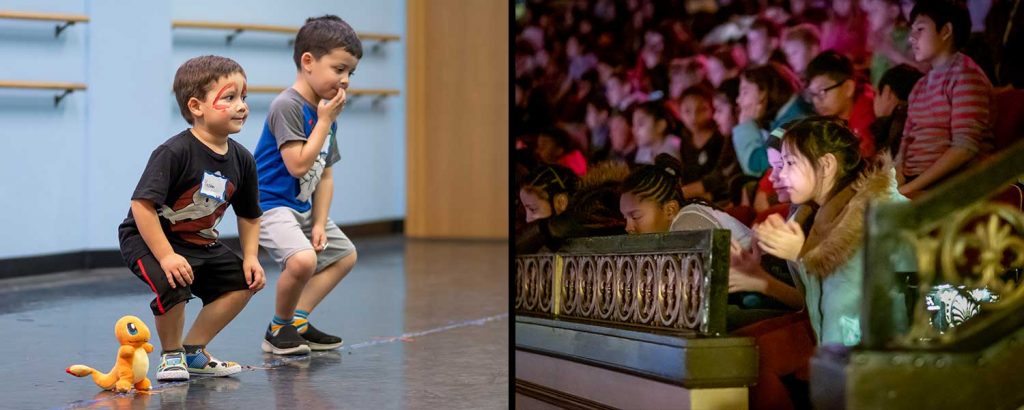 With your support, we inspire
30,000 people each year.
You make it possible to brighten the lives of 10,000 students and adults who normally wouldn't have the means to attend a performance on their own.
We will persevere. COVID-19 has brought many challenges for us, just like it has for you. For safety, American Midwest Ballet has suspended rehearsals and classes, and rescheduled our performances. We continue to support the valuable expression of dance, and have paid our dancers for the remainder of the planned season in order to support our artists during this difficult time.
We've also found new ways to continue to inspire the community, including recording a number of dance classes to share online for free. With so many families at home, we are happy to do anything we can to brighten their days and keep kids active!
Although we are physically apart, we are just as emotionally connected as ever. You mean the world to us. Join us as we embark on a new decade of dance!
---
Learn about your donor benefits.
For more information, please contact sarah@amballet.