OMAHA — May 2, 2019 —  As American Midwest Ballet heads into its final performance of the season this weekend, dancer Bret Samson prepares for the final performance of her career.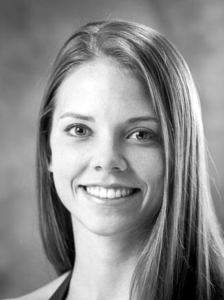 "Bret has been a part of this grand journey from the beginning," says artistic director and CEO Erika Overturff.
A founding member of American Midwest Ballet, Bret is well-known for possessing a wicked sense of humor.
"While audiences will remember Bret's gorgeous, long lines and striking beauty on the stage," says Erika "we will never forget the countless times she has made us laugh."
Ahead of her upcoming final bow on Saturday evening, Bret took some time to reflect on her career and share what her future holds.
"Bret may be retiring from the stage," says Erika, "but she'll always be a part of our AMB family."
How long have you been a ballet dancer?
I've been studying ballet since 1993!
Tell us how you became a part of American Midwest Ballet.
I had moved to Omaha to dance with Omaha Theater Ballet during what turned out to be its final season. A few months after the unexpected and devastating news that the company was folding, Erika approached me to see if I was interested in remaining in Omaha to help make a new company. I thought, "What have I got to lose?" I'm glad I stayed!
Do you remember taking your first ballet class?
I do remember some of my first classes! I was so afraid because I was such a shy kid and never had done anything like that before. I learned passé and tendu criosé devant. I loved my teacher at my small studio, Miss Sherri!
Who are some people that helped you on your path to professional dance?
Some of my first teachers, Gwen Agee and Amy Aichele undoubtedly made me the person I am today. Also, Melissa Anderson and Rafael Delgado, who really helped me unveil classical ballet technique were very influential in my professional endeavors.
What will you miss the most about being a professional dancer?
Spending my days with like-minded artists with good senses of humor!
What will you miss the least?
Three things: dancing through pain; all of the extra responsibilities that come with dancing in a small company like sewing costumes and loading out after performances until 1:30 a.m.; and en dehors pirouettes in attitude derrière from fourth position. I won't miss those!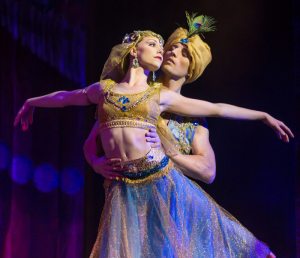 What will you be doing after this?
Teaching ballet — which is where my heart is! I have several workshops and training courses planned already.
I have been teaching for 16 years, but still feel like there is so much to learn.
The more we can continue to grow as teachers, the stronger our future generations of ballet dancers will be.
What was the funniest thing that ever happened to you on stage?
Putting both my legs in the same hole of my shorts during a quick change and not realizing it until I was onstage. I was devastated at the time. It's hilarious in retrospect.
Are you and [fiancé and fellow AMB dancer] Sasha York finally getting married?
Haha yes! But it will most likely be a small private event. We have too many loved ones and would never be able to narrow down our guest list:
The biggest question of course is what will we do without you?
I will miss you so much and the company, too! It has been a great (almost) decade here!! Love to everyone!!!
---
Catch Bret Samson in her final performance with American Midwest Ballet this weekend as Erin Alarcon's The Wizard of Oz makes its world premiere at Orpheum Theater in Omaha on Sat., May 4 at 7:30 p.m.
A limited number of tickets remain on sale now.