OMAHA — April 30, 2019 — A couple of months ago, American Midwest Ballet sent out a casting call for an adventurous dog to play the pivotal role of Toto in the company's spring production of The Wizard of Oz.
After auditioning many talented pups, the role was eventually offered to a sweet Yorkshire Terrier named Milli.
Although Milli's mom, Kylie Steuben, jokes that the 6-year-old Yorkie's only trick is being able to sit when offered food, Milli's charm and charisma make up for any lack of formal professional training.
We spent some time chatting with Milli ahead of her upcoming Omaha debut at the Orpheum Theater on May 4.
Hi Milli! How do you like being in The Wizard of Oz?
I absolutely love it!
How did you get interested in performing? 
My first role was playing the role of Toto in a different Wizard of Oz ballet at a dance academy owned by one of my mom's good friends.  When I saw American Midwest Ballet's casting call for Toto, I asked my mom if I could audition. I met with the artistic director and the choreographer, and I got the part!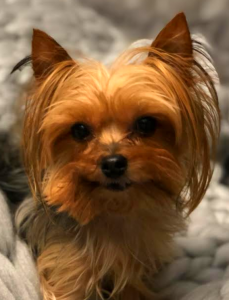 How many performances of The Wizard of Oz will you appear in for this production? 
I am so happy because I get to be in ALL of the ballet company's performances. I already did three school shows last week. We toured to Sioux City, Iowa last weekend. I am so excited to make my big debut at the Orpheum Theater in Omaha this Saturday!
Do you have any special things you like to do to calm yourself and prepare before a performance? 
I don't have any special pre-show rituals. Since I weigh about 4 lbs., I am always a *little* nervous about the giant world around me. But I am pretty calm most of the time.
What are you enjoying most about being part of the cast? Are the dancers nice to you? 
It's fun being in my first professional production. I love all of the dancers in the cast and the crew members I get to work with.  Everyone is so skilled and knowledgeable about their jobs. Even the people who volunteer with the ballet guild have been so nice to me!
What kind of things do you like to do at home? 
I don't really need a whole lot to stay entertained. I am happy just napping on the couch all day!
Do you have any brothers and sisters?
Yes! I have a baby sister named Elli. She is also a Yorkie.
Would you like to continue to perform?
Yes, I am having fun! I can't say enough great things about all of the people I've met at the ballet. My mom and I are so thankful for everyone who let me be part of this show. I am always on the lookout for fun parts to play. We'll see what the future holds for me!
---
Erin Alarcon's The Wizard of Oz makes its world premiere at Orpheum Theater in Omaha on Sat., May 4 at 7:30 p.m.
A limited number of tickets remain on sale now.