A new way to experience professional dance debuted at 7:30 pm Saturday, February 8, when American Midwest Ballet premiered the first of two shows in the new Encore Series.
"Dance is an emotional relationship between the performer and the viewer," says artistic director, Erika Overturff. "The goal of the Encore Series is to bring that relationship even closer."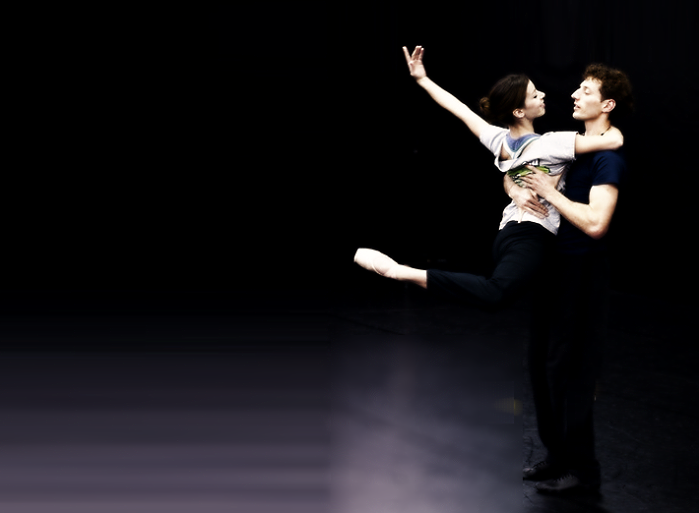 Facilitating this closer relationship with dance is the charming intimacy of the new Encore performance space at 2819 S. 125th Avenue Suite 268 in Westwood Plaza.
"The Encore brings our audience very close to the action, so they can experience the full impact of a great performance," says Overturff. "The format is innovative, with one of our artists introducing each piece and giving insights into its details and nuances. The informal atmosphere gives viewers a chance to mingle, share their impressions, sample light refreshments, and meet the performers in a casual setting."
The first in the two-show series, Duets, showcases relationships.  "The majority of the ballets on the Duets program are dances for couples, with moods ranging from flirtatious to poignant, says Overturff. "Others highlight individual relationships within a group."
Yet Duets also features Mikhail Fokine's 1905 masterpiece The Dying Swan which is a solo work. Why a solo in a program called Duets?
"It is a duet between the soloist and the viewer," Overturff explains. "The dance is just the swan and you — along with all the emotions you bring to this encounter. No two people experience this masterful work in exactly the same way. It is short at less than four minutes, but it is also  incredibly beautiful and moving."
Tickets for Duets are $25.
Sat., Feb. 8 at 7:30pm
Encore Performance Space
2819 S. 125th Ave. Suite 268 (at Westwood Plaza, Omaha)
This event has concluded.