OMAHA, NE —  January 19, 2019 —   As soon as Rebecca Brenner – Becca to her friends – took her first ballet class at age five, she knew she belonged there. "Everyone around me seemed to know that, too," laughs Becca. "I never really had aspirations to do anything else."
When ballet friends began to drift away to focus on other activities, Becca remembers asking herself why she was dancing and what would become of it.
"I guess it just dawned on me at that time, unlike ever before, that I was prepared to do whatever it took to become a professional ballet dancer someday."
Now in her fifth season with American Midwest Ballet, Becca took some time during the company break to chat about all things ballet — and being a new bride.
You have been with the company for five seasons now. What are some things you've noticed as the company grows and evolves.
It's incredible being a part of American Midwest Ballet. I've watched it grow in such a short time — from the number of dancers in the company to the big name guest choreographers and works we are able to bring  to the stage.
How have you personally grown and evolved as a dancer?
When I danced in my first professional job at Rochester City Ballet, they called me "baby rattlesnake" because I tended to attack every dance movement with way too much gusto and energy.  But also like a rattlesnake, as I matured, I realized that I don't need to attack with all the venom at once. I started to dance the slower pieces with more finesse. I've been blessed with opportunities to work on that facet of my dancing, helping refine it and make it more interesting to watch.
You are also a newlywed!
Yes! Zach and I got married last spring in my hometown of Columbus, Ohio at a beautiful venue that overlooks the confluence of the Scioto and Olentangy Rivers with the incredible downtown skyline in the background.
We had about eighty guests. It was amazing to see friends and family from all over the United States.  We had our ceremony in an outdoor gazebo and we wrote our own vows. It was a perfect day!
Zach and I were finally able to enjoy our honeymoon in Hawaii earlier this month, after a long Nutcracker season and some touring with the company.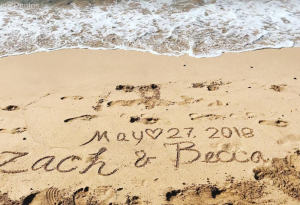 What have you looked forward to this season?
I can't wait to do our full length ballet this spring!  I look forward to seeing Erin [Alarcon]'s creativity and imagination come to life in her own unique version of The Wizard of Oz. I've had the privilege of dancing in three of Erin's original works. My favorite was a spunky solo she created on me. Erin is a joy to work with!
What do you do to stay in shape over winter and summer breaks?
I enjoy my own workout routines at the gym. I've worked with a handful of personal trainers on and off for about three years, so I have essentially created my own workouts from combinations of exercises that help me keep the important muscle groups toned. I also enjoy a nontraditional pool workout. In college, I took a dance conditioning class and we studied the Allegra Kent Water Beauty Book. I found the exercises to be always interesting and fun while not over working the muscles. It's basically a ballet class in the pool with water wing floaties around the ankles for added resistance.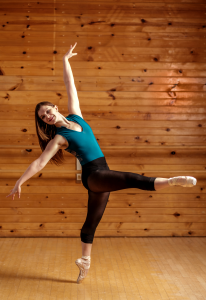 What is the one thing you do best in the dance studio?
Though each dancer is different, most tend to be the best at the thing they enjoy the most. I excel at grand allegro which is one of my favorite things to do in the studio. I love to travel around the studio, fly high in the air and whack my legs — with refinement, of course!
What is the one thing you do best outside of dance?
I dabble in a few hobbies, but nothing to brag about. I do enjoy practicing my country line dancing skills and working on my golf game with my husband.
What advice do you have for your younger self or those younger dancers hoping for a future dance career?
One of the hardest things about ballet is patience and realizing how much work you will put in and not see immediate results. Ballet doesn't work like grades in school; it can be really hard to not advance when all of your friends do, or yearn for pointe shoes but learn that you'll need to wait another year.
I watched other students cry to their parents who then complained to the studio director to get what they wanted. But thanks to my loving and ever supportive parents, I learned early on that was not the way to get by in life. A year of feeling left out or not good enough can be tough,  but it is important to know your worth and still shine. Being patient has made me the strong, hardworking dancer I am today.