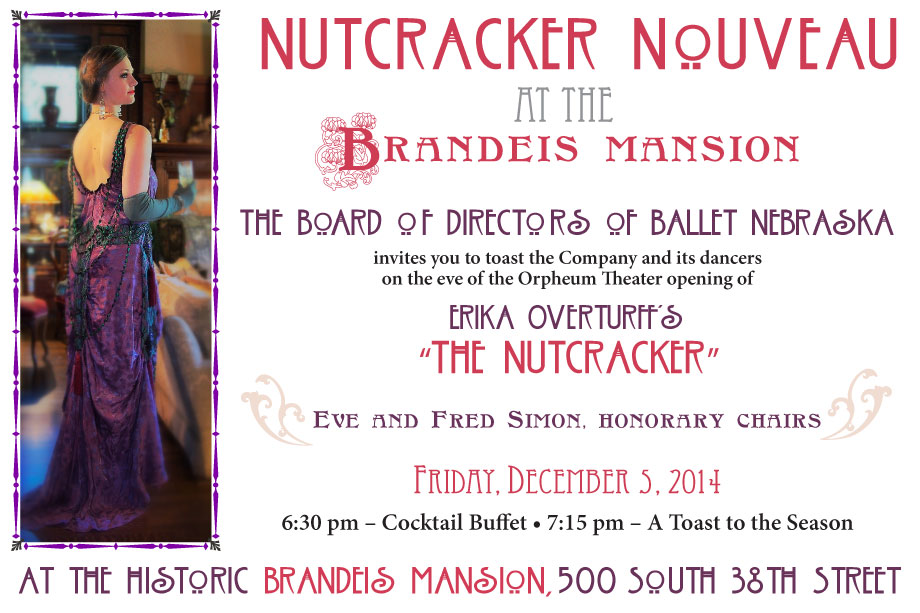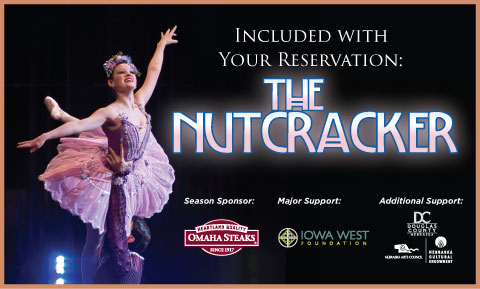 Whether your tastes are nouveau or moderne, you'll thoroughly enjoy this festive evening of celebration! Meet the dancers of American Midwest Ballet, splendidly attired in their opulent costumes from the party scene of The Nutcracker. See the lavishly appointed Brandeis Mansion, sip a cocktail or a glass of wine, and enjoy gourmet refreshments. Toast the arrival of the holiday season at this distinctive, one-of-a-kind event!
Suggested dress: festive cocktail attire.
Your Nutcracker Nouveau reservation includes a very special extra: one ticket per guest to a performance of American Midwest Ballet's exquisite and enchanting The Nutcracker! Our fresh, lively and thoroughly entertaining version of this beloved classic ballet will be a highlight of your holiday season. Simply select your preferred venue and date below, and your tickets will be held for you at the will-call table.
Your Reservation:
See the options below to reserve your Nutcracker Nouveau tickets at $125 per person*, and to select your preferred Nutcracker performance. Once you have made your selection, click the PayPal logo below to complete your order. Please reserve by November 30, or by November 15 if you would like to attend the Arts Center performance. (*$50 per person is tax deductible.)
[wp_eStore_fancy1 id=60] [br] [wp_eStore_fancy1 id=55] [br] [wp_eStore_fancy1 id=61] [br] [wp_eStore_fancy1 id=62] [br]
[wp_eStore_cart_fancy1]
[hr]
Nutcracker Nouveau Planning Committee:
Co-Chairs: Mark Maser & Paul Ledwon • Jeanie & D.R. Owen
Linda Andersen • Michelle & Ryan Clark • Hal & Mary Daub • Kathy & Michael Gross • Amy Haddad & Steve Martin • Cindy & Scott Heider • Suzanne & Rudy Kotula • Michelle & Kevin Kugler • Sharon McGill • Karen & Larry Nelsen • Francie Prier • John Ritland & Greta Vaught • Todd & Betiana Simon • Anne Thorne Weaver