---
Dancers, choreographers, and a filmmaker learn new ways to collaborate in an innovative dance/film series
American Midwest Ballet began its eleventh professional season with Going Solo – a groundbreaking initiative incorporating the company's professional dancers, a documentary filmmaker, and the creation of an online video series.
"The public health situation is a challenge for everyone," said Erika Overturff, AMB's founder and artistic director. "With Going Solo, we're turning it into an opportunity for our dancers to showcase their creativity and individuality, and for our viewers to experience dance works in an exciting new way. We think we've designed one of the most innovative virtual dance programs in the country."
Overturff said four distinctive features made Going Solo stand out:
Every dancer in the company was eligible to participate: as a performer, as a choreographer, or by studying and interpreting an existing work.
AMB provided studio space, coaching, and mentorship.
Selected dancers collaborated with filmmaker Lance Glenn to produce an individualized visual interpretation of their works, along with behind-the-scenes insights.
Audiences could interact with Going Solo through a series of virtual "talkback" sessions in which the artists provided background on their works and responded to questions and comments submitted by viewers.
Going Solo opened October 2 with the online premiere of Glenn's feature-length 2012 film It Starts with a Step – a behind-the-scenes documentary tracing the founding of the new dance company that later became American Midwest Ballet.
"The film is an inspiring story about people working together to overcome challenges," Overturff said. "And October 2 was ten years to the day since our debut performance that is depicted in the film. It seemed like the perfect way to open the Going Solo series."
From there, Going Solo continued with new episodes released every few weeks – with each episode containing the premiere of a short film based on a dancer's work. As they became available, the episodes were published for viewing on AMB's website and social media channels.
Learning a new way to work
The need to protect artists' health through social distancing ruled out ballet's centuries-old rehearsal tradition, which put large groups of dancers in close contact for hours of intense physical exertion. Instead, dancers and choreographers adapted quickly to virtual collaborations and remote rehearsal sessions… and discovered new opportunities in the process.
Claire Goodwillie had been nervous about her first chance to choreograph on one of her fellow professional dancers. But Going Solo gave her the opportunity to broaden her horizons, collaborating virtually with Alyssa Grimsley on a work inspired by the classical Greek myth of Pandora.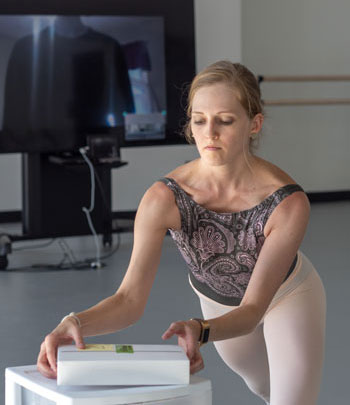 "I've wanted to create a piece that was related to Greek mythology for many years," she said. "Not only are the stories exciting and full of emotion, it's incredible how long they've survived.
"I was attracted to this particular story because, unfortunately, the idea of one terrible thing after another being released into the world felt appropriate for the times in which we're living. While there are different endings to this legend, I've chosen to end it on a hopeful note, as a reminder that we must always hold onto hope."
Erin Alarcón said she was inspired both by her experiences as a new mother of a son (Rory, almost two by the time her film premiered) and by her interest in creating a unique visual experience that would not be possible in a theater.
"Awhile back, when I was up late rocking Rory back to sleep, I jotted down some words that came to mind," Erin said. "I decided to use this as a jumping-off point on a piece about motherhood. My idea was to work with Lance to make a short film that goes between me performing a solo on the stage and me dancing and rehearsing it with Rory in the studio and outdoor locations.
"My hope was to pay tribute to the way that becoming a parent changes you and shapes you into someone better, despite the challenges that come with it. Your children are the reason you push harder for the things you love so you can be an example for them."
A summer encounter with a longtime friend inspired Anna Swenson to try a virtual collaboration for Going Solo.
"I've known Seneca Montgomery for many years, having grown up training together with Sara Donally, Peggy Goodner-Tan, and Dodie Askegard," she said.
"We happened to be in town [Spokane] at the same time for different reasons, and we had been so close in high school that it felt natural to get together and create with each other with no initial intentions. Things fell into place with the music and choreography.
"Together with another friend of ours, we finished 2/3rds of the piece without knowing when we would be able to get together again once I left to go back to Omaha. We were inspired to continue despite the distance – and having the piece be a part of Going Solo was a perfect reason to work remotely."
Initially, trying to work on choreography remotely via Zoom conferences was, Anna admits, "not easily accomplished with the lag in music and video. But we did it, and had fun laughing at the absurdity of trying to conquer musicality for the steps.
"We concurred that filming and sending the pieces to each other was the best way to solve that problem. I love that girl and I can't wait to see her work be recognized."
Creating an exciting challenge

Personal engagement for the company's artists was an important goal for Going Solo, Overturff said. "Our theater performances were on hold until 2021, and our company classes were being taught virtually," she said. "It was a huge change from the dancer's routine that most of us had been following since we were children.
"I wanted to create an exciting challenge to motivate our artists and keep them focused. Fortunately, we have our beautiful studios in the Hoff Family Arts & Culture Center, and we developed protocols so individual dancers could work safely in them. Lance, our filmmaker, is also AMB's production manager and has a tremendous understanding of translating dance to film. All the pieces were in place to create something that's genuinely innovative and rewarding."
Now that AMB has resumed performing in theaters, Overturff said, the Going Solo series has taken on a second life. "We had some really special works from our dancers and guest choreographers," she said, "and were able to share some of them during our Season Twelve Momentum production, performed live on our stage."