OMAHA — September 12, 2018 — American Midwest Ballet is often referred to as artistic director Erika Overturff's "first baby," and the members of the company are like her family.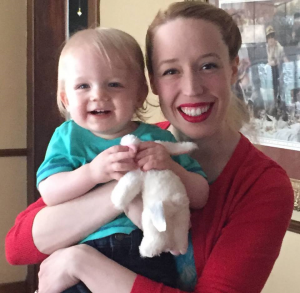 But those who know Erika and her husband Brandon Dickerson outside of ballet already know their other first baby is an adventurous two-and-a-half year old named Stellan. 
Along with their dog Molly, the Dickerson household is anxiously awaiting the birth of yet another baby —  Erika and Brandon's second son due to arrive any day now.  
Erika took some time before the newest Baby Dickerson's debut to chat with us about motherhood and Momentum.
When is baby due?
September 13.
Is Stellan excited to be a big brother?
Yes! He likes to go in the baby's room. He says he's going to help change diapers : ) Of course he is just repeating what I say, but we'll see!
Do you continue to train or take class when you're expecting?
For a while. At a certain point it just feels ridiculous!
The showpiece of this season's Momentum is your original work Rhapsody in Blue. What is special to you about this piece?
Rhapsody was completely inspired by the music of George Gershwin's fabulous Rhapsody in Blue. When I choreographed it, I listened to the music many times until I knew all of the rhythms and notes by heart.
The music is so expressive; within one piece it conveys so many different moods. It is flirty, jazzy, big and bold, whiny and sad, sweeping and romantic, daring and quick – lots of personality!
I see the dancers as a personification of the musical notes themselves, as if they floated out of the instruments and onto the stage for us to see.
Tell us about Connemara, the ballet.
It is exciting to return to where it all started.  Connemara is a ballet I choreographed for our very first season. Three visual art works from Joslyn's permanent collection were voted on by the public, and Connemara: Rock Pool was selected to be the inspiration for my new ballet.
I enjoyed the creativity and collaboration of the whole project: the public voting that engaged the community; collaborating with Joslyn Art Museum; interpreting a work of visual art; finding the music to bring the painting to life for dance; and working with my mom, Deborah Overturff, who designed and created the costumes, and seeing how she reflected the painting in her design.
Our Joslyn collaboration has proven to be a wonderful impetus for the creation of new ballets over the years.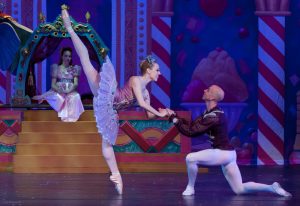 Share a little about your journey from young dancer to artistic director, and some of the experiences that led you to where you are right now.
I've always loved dance and it has always been a central part of my life. It is amazing the teachers, friendships, and experiences you have along the way. I am grateful for all of it.
Whatever phase of your life or career you are in — sometimes wonderful, sometimes challenging, often both — dig in, give it your all, enjoy it, learn from it, and appreciate the people around you.
How have you grown artistically or otherwise?
Well that's an easy one if we go with "otherwise!" My belly has grown huge with baby number two. I'm nine months pregnant!
What else would you like to achieve in your career?
It's funny, I really haven't approached my career in that way at all. It is all an adventure. I take it as it comes and make the most of it.
What was the best advice you've received?
I think we all know this one, but it is a good one: treat others the way you want to be treated.
What advice would you share with young dancers and choreographers starting their careers?
Work hard. Be humble. Enjoy it!
Does Stellan love dance already?
Stellan does love music. His signature dance move is nodding his head to the beat. Sometimes Brandon will bring him to the studio on a Saturday to see the dancers in action. He just started galloping, which is pretty cute.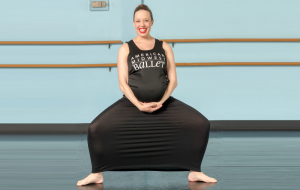 Who were some of your biggest influences and inspirations?
My ballet teachers – Marina and Tanya. My family – my mom, dad, sister, aunt, and grandma.
Who inspires you today?
Our dancers!
What have you enjoyed about this journey?
We've had the opportunity to do so many cool things. All of the ballets we've made, the fun we've had. Even the hard stuff brings you closer together.
I like spending time with talented, passionate, creative, funny, smart people — and I'm surrounded by them!