OMAHA — Mar. 22, 2015 — Among American Midwest Ballet's most rewarding collaborations is the annual production of MOMENTUM with Joslyn Art Museum. This award-winning mixed repertory production features a series of shorter ballets, including a refreshing mix of classical, contemporary and modern dance works — one of which celebrates the exhibition American Moderns, 1910-1960: From O'Keefe to Rockwell featured at the museum through May 17.
We recently spoke with Douglas Nielsen — guest choreographer and loving caretaker of the American modern dance classic On My Mothers' Side, created by Nebraska-born modern dance pioneer, Charles Weidman — about bringing this groundbreaking work to American Midwest Ballet.



Can you share a bit about the dance you are staging on American Midwest Ballet?
On My Mother's Side was choreographed by Charles Weidman in 1939.  He was the only person to perform this work for ten years from 1939 to 1949 while in his forties. Fifty years later, I performed this work for ten years from 1989 to 1999 while in my forties.  The parallel has been quite serendipitous.
How did you bring this work back to the stage?
It all began when I was performing my own work. Someone said I reminded him of Charles Weidman — perhaps because I was tall, or that I did comedic dances — I don't really know.  This had happened before, but this particular time, the observation came from a man who knew Weidman. He suggested I research Weidman's autobiographical suite, On My Mother's Side.  I applied for a grant and started the journey by digging in a cardboard box at Lincoln Center's Library of Performing Arts in New York City.
I uncovered the handwritten original piano score of On My Mother's Side by Lionel Nowak. I tracked down Mr. Nowak at the college where he taught. When I showed him a copy of the score, he cried and said, "This is like returning a lost child to a parent."  The music became the catalyst to the reconstruction of the dance.
What did it take to physically recreate the dance?
It took me two years to reconstruct the six solos in this work  – step by step, little by little. I found a number of people who had seen Weidman perform On My Mother's Side.  The music would typically trigger their memory, which led to wonderful conversations describing certain steps. It wasn't until I met Peter Hamilton though, that the reconstruction really took flight.  He worked tirelessly with me – hours upon hours.  At one point, Peter walked out saying that he couldn't do it anymore because I was bringing back memories he intended to forget.  I begged him to continue and we managed to finish the project in time for me to perform it in New York City on December 30, 1989 — the fiftieth anniversary of its premiere.
What is your history with Charles Weidman?
I only saw Charles Weidman and his company perform once – but it left a lasting impression.  He was unapologetically human – taking his themes from his own experiences as an American.  He created and performed dances about silent movies, Abraham Lincoln, a lynching, and his own biography.  I studied the Humphrey-Weidman modern dance technique, but had never performed any work by Weidman until On My Mother's Side.



What is special to you about On My Mother's Side?
It is incredibly personal.  I had a blind grandmother, and my mother went blind too – so when I performed the blind grandmother – I had a personal image and experience to draw upon.
What do you consider as you re-stage another choreographer's work?
Whenever I re-stage one of my own works, I inevitably change it in some way.  The structure may stay the same, but because I am not dead — and that the cast in front of me is different – I invariably make changes.  This is not really an option when restaging the work of another choreographer – especially if that choreographer is deceased.  It can be tricky – and tempting — to make alterations. I work to maintain the integrity of the piece.
In what way is your re-staging of On My Mother's Side different from the original?
In the case of Weidman's On My Mother's Side, I have remained true to the choreography. It was originally performed as a solo — first by Charles Weidman and later by me. I have set this work on multiple casts, both men and women, who perform it as an ensemble rather than a solo. I did this when the Martha Graham Company sponsored a performance of On My Mother's Side at the Joyce Theatre in New York. This is what I'm doing again with American Midwest Ballet's dancers.
Tell us about your experience working with the dancers at American Midwest Ballet.
I have been coaching the American Midwest Ballet dancers this spring.  A dancer from my last re-staging of On My Mother's Side had already taught the choreography to the dancers in January.  American Midwest Ballet's dancers can definitely handle the challenge of performing this dance with confidence.  The six-solo suite is comprised of many stylized movements and gestures.  My duty to honor this work includes helping the dancers identify with the characters by breathing life and weight into each step.



Who were some of your biggest influences ?
I recently went to California to see my first dance teacher Donald McKayle, under whom I studied at Cal Arts in 1972. Donald will be 85 years young this year. He created Uprooted, a passionate and politically current dance that moved me beyond words! I sat with him for two performances of Uprooted which he set on his pre-professional ensemble at the University of California Irvine. Donald is a true role model. Who knows where I'll be if and when I reach the age of 85. I can only hope to remain as relevant and productive as Donald McKayle.
Who inspires you today?
That's an easy one to answer: My students inspire me to keep going!  They are young and full of hopes and dreams.  It is my duty to pass on whatever I know to them, and it is their duty to make it their own – in their own voice – in their own way.
How have you grown artistically from your years as a student to professional dancer to choreographer?
Antony Tudor once said that every choreographer, throughout his/her lifetime, makes 'one long ballet.'  I interpret that to mean that the creation of my next dance is always dependent on the one before it.  As ideas evolve and dances take on various structures, one can see that there is a signature that continues to identify the author.  Perhaps over the years I have become more focused and interested in ideas that keep me awake.  Each dance is a puzzle with its own rules.  My main objective is to not repeat myself by using motifs and concepts that have worked in the past. I challenge myself to remain in the 'uncomfort zone.' My goal is to keep going — be continually present.
What motivates you on a Monday morning?
I recently did a dance for eight men to a verbal score recording of people saying the days of the week out of order – i.e. Monday, Sunday, Thursday, Saturday, etc. The sound of the voices of men, women, young and old, made you think — what does it really mean when it's Sunday – or any other day?  And why do we define our lives by what day it is? The choreography was based on repetition, but sequenced in a way that was not necessarily logical.
I have purposely lived my life with the aim to avoid routine.  I tell my students to try to do something different everyday – or at least do the same thing differently: brush your teeth with your non-dominant hand – or eat blindfolded – or have someone feed you – or wear socks that don't match. So, to me, Monday is like every day – I get up, and find meaning and reason to give it equal value to any other day.
What was the best advice you've received?
That there is a difference between quitting and stopping – and that I should only 'stop' when it isn't fun any more.
What advice would you share with young dancers starting their careers?
Invent a place for yourself in a world that thinks it can get along very well without you. It's your turn!
*Douglas Nielsen studied dance at the California Institute of the Arts in the early 70's with Donald McKayle, Bella Lewitzky, and Mia Slavenska. He later returned to California to teach at Cal Arts (1997-2000), and California State University Long Beach (2000-06). He is currently Professor at the University of Arizona School of Dance, Tucson, AZ.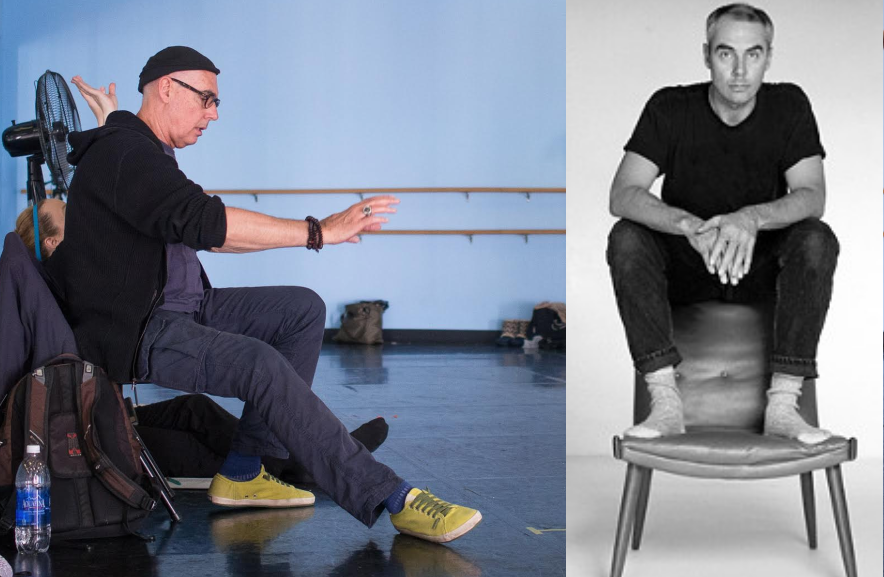 Recipient of the 2003 Lester Horton Dance Educator Award for excellence in teaching, and the 2007 American Dance Festival Balasaraswati/Joy Ann Dewey Beinecke Endowed Chair for Distinguished Teaching and former member of the Batsheva Dance Company in Israel and Gus Solomons, Pearl Lang, and Paul Sanasardo dance companies in New York, he has performed solo works by Viola Farber, Beverly Blossom, Anna Sokolow, Murray Louis, and Charles Weidman.
Douglas began dancing shortly after earning a B.A. in psychology at Augsburg College, Minneapolis. Nielsen is the recipient of four fellowships from the National Endowment for the Arts and a Performing arts fellowship with the Arizona Commission on the Arts.
In 1988, Douglas pioneered the founding the first modern dance company of Mainland China (The Guangdong Dance Company). Other international assignments include L'ecole-Atelier Rudra Bejart Lausanne (Switzerland), The Beijing Dance Adademy (China), Palucca Schule (Dresden, Germany), University of the Americas (Mexico), and representing the American Dance Festival in Korea, Russia, China, Czech Republic, Brazil, Chile, Argentina, Estonia, Lithuania, Latvia, and Mongolia.  Douglas has been a guest teacher and choreographer at more than 40 universities throughout the United States and abroad. He has served as the Rufus Putnam Professor in residence at Ohio University and as the Sage Cole Chair at the University of Minnesota, and guest faculty at New York University Tisch School of the Arts.
Since 1979, Douglas has created over 100 dances for his own company (Douglas Nielsen Dances) and others including the Ririe-Woodbury Dance Company (Salt Lake City), Dancers Unlimited (Dallas), The Repertory Project (Cleveland), Dances We Dance Company (Honolulu), Pittsburgh Dance Alloy, Chrysalis Repertory Dance Company (Houston), Harbinger Dance Company and the Eisenhower Dance Ensemble (Detroit), Tenth Street Dance Works (Tucson), Kauhsiung Contemporary Dance Company (Taiwan), Guang Dong Dance Company (Guang Zhou, China), Kathryn Ricketts Dance Company (Copenhagen), and the Scottish Dance Theatre (Glasgow).  Nielsen has served on adjudication panels for The American College Dance Festival in Virginia, Texas, Idaho, Kansas, Connecticut, Massachusetts, Arkansas, and California, and Ohio. He has also served as a distinguished panelist for the Los Angeles Music Center Spotlight Awards, The National Association for the Advancement of the Arts, the Los Angeles County Arts Commission, the McKnight Foundation, and the NEA Learning in the Arts Dance Panel.