Company dancer Erin Alarcón moved to Omaha in 2010 to dance as an apprentice with American Midwest Ballet in its debut season. In addition to finding a job, she also found a new home, a husband, some wonderful friends, and an opportunity to do what she had been training for her whole life.
Erin began her first season dancing many roles in Swing, Swing, Swing and The Nutcracker. She danced a lead role in Elizabeth Nesi's D'Irah during  American Midwest Ballet's spring production of Momentum – and ended her first season as a professional dancer on a high note dancing the featured role of Fee in Oskar Antunez' A Midsummer Night's Dream.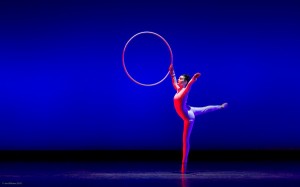 After being promoted to company dancer in American Midwest Ballet's second season, Erin has become a key part of the company, regularly featured in soloist and lead roles in the company's mainstage productions. Erin also serves as Operations Manager for the ballet company
What is Erin like offstage? Let's find out:



What do you like to do for fun?
I'm addicted to games! I love getting together with friends to play everything from board games and card games to charades and even made up treasure hunts. When I moved to this city,  I created an "Omaha bucket list." Together with my roommate, Kelsey Schwenker, I have been accomplishing many things on this list. Fellow company dancer, Claire Goodwillie helped us cross the Henry Doorly Zoo off this past spring!
Of all the roles you've danced so far, which is your favorite?
I loved being able to perform the title role in Giselle. One of my favorite parts of dancing is being able to act and explore different characters. Giselle is one of those unique characters that allows you to fall in love, be heartbroken, and go crazy all within the first Act of the ballet. Giselle contains some of the most beautiful and heart wrenching music I have ever heard. It's a tragically beautiful ballet.
How have you dealt with injuries? Is there one that stands out?
I was at a summer program practicing after class. I did a grand jeté that ended in disaster. My foot landed perfectly in a shoe that had randomly been strewn across the middle of the floor. I sprained my ankle and was deemed out of commission for about a week and a half. Since I was at a summer program there was literally nothing else for me to do but watch other people dance — all day long. It was during this time I finally understood how to watch other dancers and learn from them. I observed the things that made a great dancer stand out. It turned into a great learning experience.
Tell us about some interesting places you've been.
In college I had the opportunity to study dance abroad in Amsterdam in The Netherlands. It was a few of the best weeks of my life. One of my favorite experiences was walking through the Anne Frank House. To be in the places where Anne Frank wrote the beautiful and inspiring words that I read in eighth grade was something not easily forgotten.
Do you have a favorite food?
Grilled cheese sandwiches! Simple, yet delicious. I have one for good luck before each performance. There is nothing quite like a good grilled cheese sandwich.
What part of American Midwest Ballet's season do you enjoy the most so far?
I am a secret (or not so secret now) fan of The Nutcracker. For me, no matter how many times I do it, there is nothing quite like the feeling of performing in this holiday classic. I think about how there is at least one child out in the audience who has never seen it before and how for this child it is pure magic. To be a part of something that can spark people's imagination and create a love of dance in them is really exciting for me.