OMAHA — Nov. 14, 2017 — American Midwest Ballet's The Nutcracker premieres this weekend as the classic ballet officially ushers in the holidays with a lively new Russian dance.
A special pre-Thanksgiving performance at IWCC Arts Center (Sunday, Nov. 19 at 2:00 pm), is followed by a three-show run at Omaha's Orpheum Theater on Saturday, Dec. 2 at 2:00 and 7:30 pm, and Sunday, Dec. 3 at 2:00 pm.
The Russian dance is an audience favorite, said Erika Overturff, American Midwest Ballet's founder and artistic director.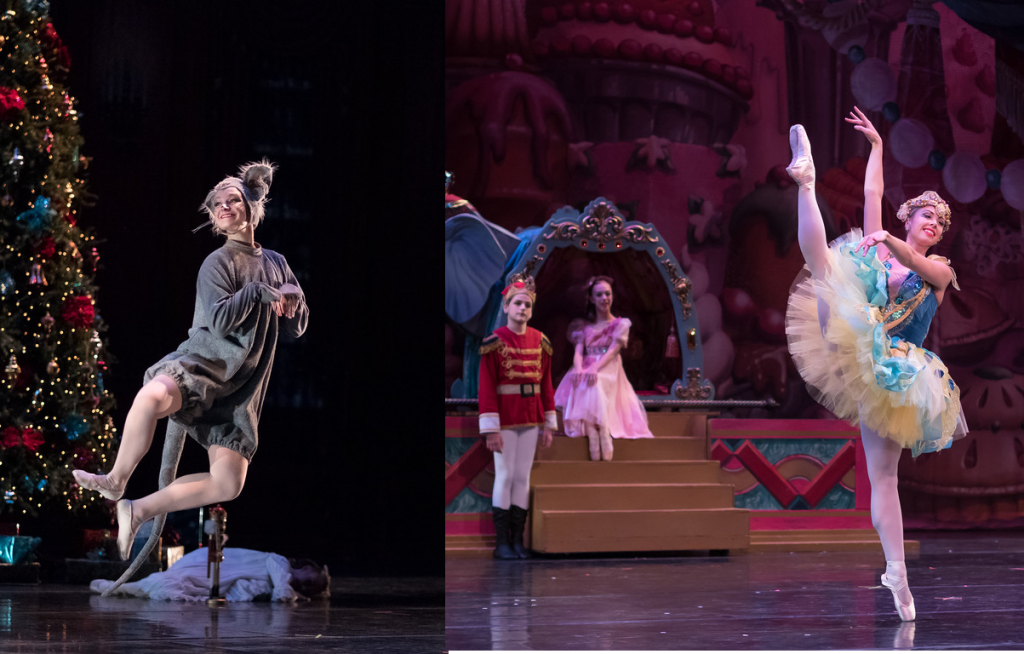 "The music of The Nutcracker is some of the most well-known and memorable," says Overturff. "The new Russian dance is a high energy piece featuring two men and three women. Tchaikovsky's spirited music for this variation provided inspiration for the new choreography, which combines Russian folk steps, fast turns, and big jumps and tricks."
"Our new costume designs complete the effect," Overturff continued, describing colorful fabrics in blue and teal, black fur trim, and grand new swirling skirts for the women to accompany their boots and fur hats.
Beyond the new Russian dance, The Nutcracker will continue the traditional scenes and colorful characters that audiences appreciate: young Clara, whose dreams take her on a fantastic journey with the mysterious Uncle Drosselmeyer, the menacing Rat Queen, the benevolent Sugar Plum Fairy, and more.
"This combination of a charming story, lively action, and brilliant music and dancing makes The Nutcracker a ballet with something for everyone," says Overturff.
"In any Nutcracker audience, you're likely to find children enjoying their first ballet experience, families sharing a beloved tradition, and experienced ballet fans savoring the brilliant classical style and the artists' interpretations," she said. "People keep coming back because The Nutcracker is a jewel with so many facets."
American Midwest Ballet will also debut its first Nutcracker Gala at the Orpheum Theater on Friday, December 1. The black-tie dinner and fundraiser event — planned to occur every other year — will invite guests onto the Orpheum stage for a special Nutcracker experience, Overturff said.
"We are so grateful to the honorary chairs, Amy Haddad and Steve Martin, for helping us establish this wonderful gala to benefit the company," says Overturff.
Tickets for The Nutcracker,  Nutcracker Gala , and Nutcracker Tea Party are on sale now.

~~
American Midwest Ballet is the region's professional dance company. The season is presented with support from premiere benefactors the Iowa West Foundation, Douglas County, the Fred and Eve Simon Charitable Foundation, the Richard Brooke Foundation, and the Holland Foundation; season sponsor Omaha Steaks; and major support from the Peter Kiewit Foundation, Cindy and Scott Heider, the Sherwood Foundation, the Nebraska Arts Council, and the Nebraska Cultural Endowment.