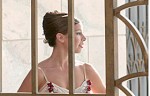 American Midwest Ballet's official season doesn't open until October 2 — but Omahans have been getting a sneak preview of their new professional dance company at Joslyn Art Museum.
American Midwest Ballet company members Natasha Grimm and Matthew Carter performed an excerpt from Carter's 2007 ballet French Songs as part of the museum's program BONSOIR: AN EVENING OF FRENCH WINE, DANCE, & DESIGN on July 8.

The program, part of Joslyn's "Late 'Til 8" series, also included music, activities, and a lecture on French landscape design by John Dixon Hunt, Ph.D. The event was keyed to the museum's current featured exhibit, Landscapes from the Age of Impressionism, which continues on view through Sept. 12.
Those who couldn't attend the July performance will get another chance on Sunday, August 22, when American Midwest Ballet dancers again perform as part of Joslyn's Landscapes from the Age of Impressionism Family Fun Day. More information about both events is available from the museum at www.joslyn.org.
About the ballet:  French Songs is a neoclassically-styled work that evokes the romantic atmosphere of its musical score: selections from Joseph Canteloube's Chants d'Auvergne (Songs of the Auvergne.) Cantaloube based his music on the folk music of central France's Auvergne region, a ruggedly pastoral district with its own unique language and culture.