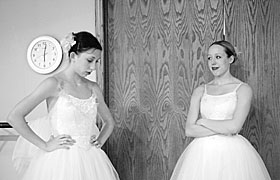 Welcome to "Student Focus," our section especially for dance students! Today's topic is…
Auditions! Yikes! Trying out for anything – your school dance team, a show choir, or a student role in a American Midwest Ballet production – can be a nerve-wracking experience.
But there are ways to help make auditions less stressful. We asked American Midwest Ballet dancers and other veterans for some tips:
Plan Ahead:
Do some research on for what, or where, you are auditioning. That way you'll know what style of performance they want, so you can focus your preparation on that. Also, plan to arrive at the audition early, so you are not rushed and can get comfortable in your surroundings. — Angela Zolczynski, dancer
Don't Be Intimidated:
No matter how many times you go through them, auditions can always be a little intimidating.
Remember, your technique isn't going to get any worse or better over the course of one audition class. Instead of worrying if you are going to fall out of that pirouette, let yourself focus on learning the combinations quickly and accurately. Being a quick learner will make you stand out.
A good way to prepare yourself for an upcoming audition is to use your regular classes to challenge these skills. Don't hang back — make yourself go in the first group.
Most importantly, a smile goes a long way! — Erika Overturff, American Midwest Ballet Artistic Director/dancer
Be Yourself:
Be yourself. No one is perfect. Do the best you can and remember not everyone is right for every job, so if you do not get the job it does not mean you are a bad dancer. — Jennifer Weber, dancer
Don't Make Comparisons:
I find that the thing that helps me the most during auditions is to remember to not compare yourself to the other dancers in the room. You never know what the auditioner is looking for, so it really won't help anything to think about qualities that you don't have that some of the other dancers do. All you can do is stay calm and try to dance your best! — Claire Goodwillie, dancer
Enjoy!
My advice is to not take yourself too seriously! Everyone thinks that you have to be perfect at an audition but what is most fun to see is personality. Enjoy what you're doing and they will see the real you! — Kelsey Schwenker, dancer