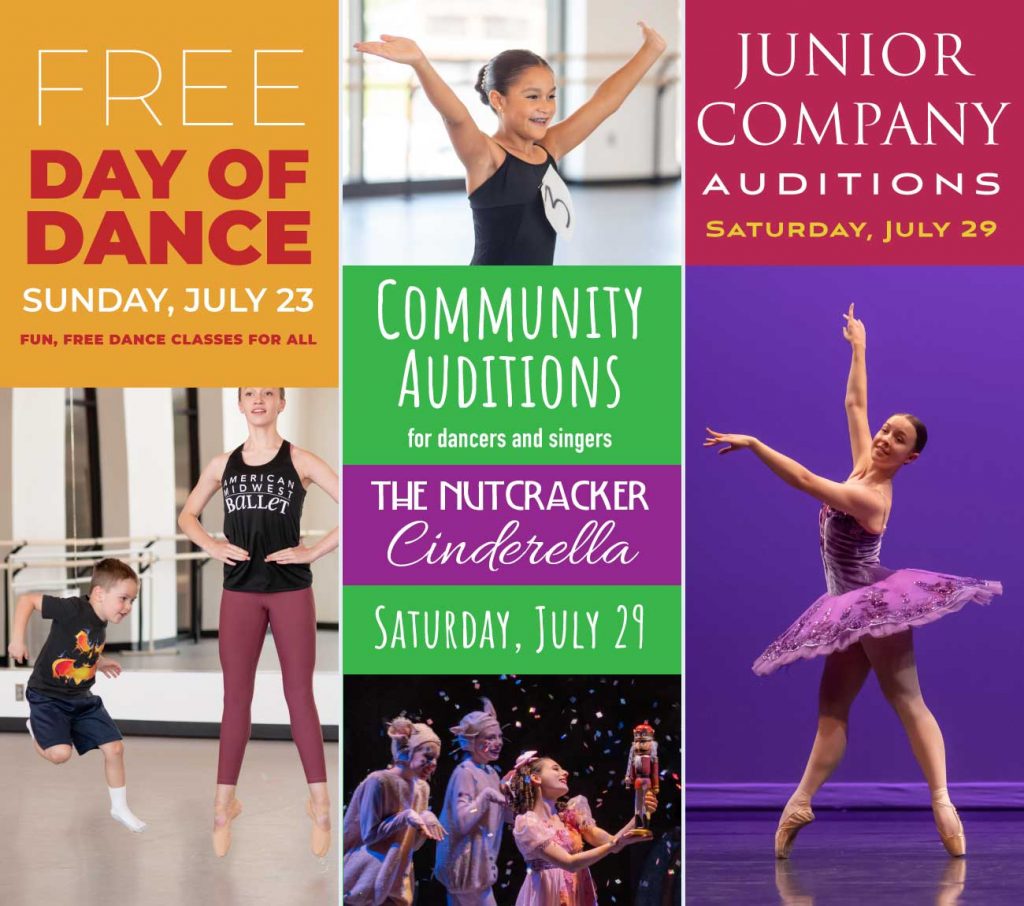 THREE GREAT OPPORTUNITIES FOR COMMUNITY DANCERS!
Pre-register now for Day of Dance and community auditions
[June 23, 2023]

Pre-registration is open now for three can't-miss opportunites for dancers of all ages, coming this summer from AMB!
Day of Dance
SUNDAY, JULY 23, 1 TO 4 PM • HOFF CENTER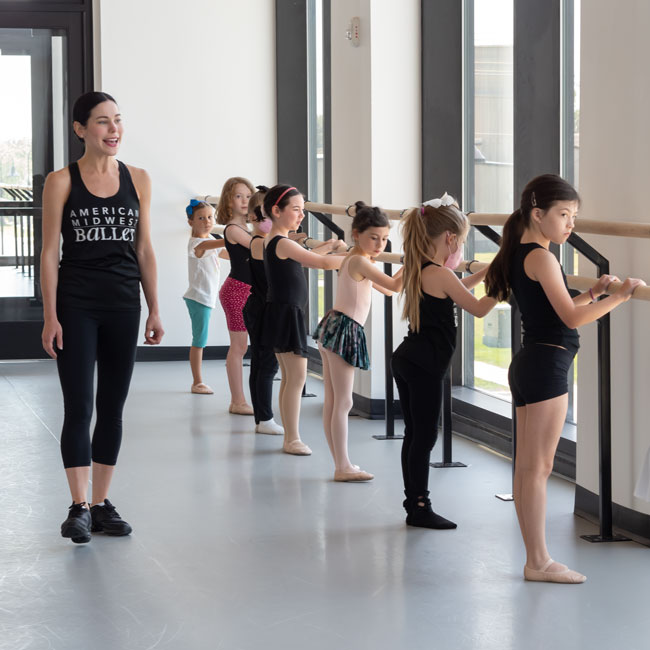 Join American Midwest Ballet School for our Day of Dance Celebration! It's your chance to attend a variety of free dance classes for children, teens, and adults. Participants also will have the chance to win free tickets to an American Midwest Ballet performance for the 2023-24 season.
Day of Dance is free, but pre-registration is required. Pre-registration is on a first-come, first-served basis, so register early!
COMMUNITY AUDITIONS
SATURDAY, JULY 29 • HOFF CENTER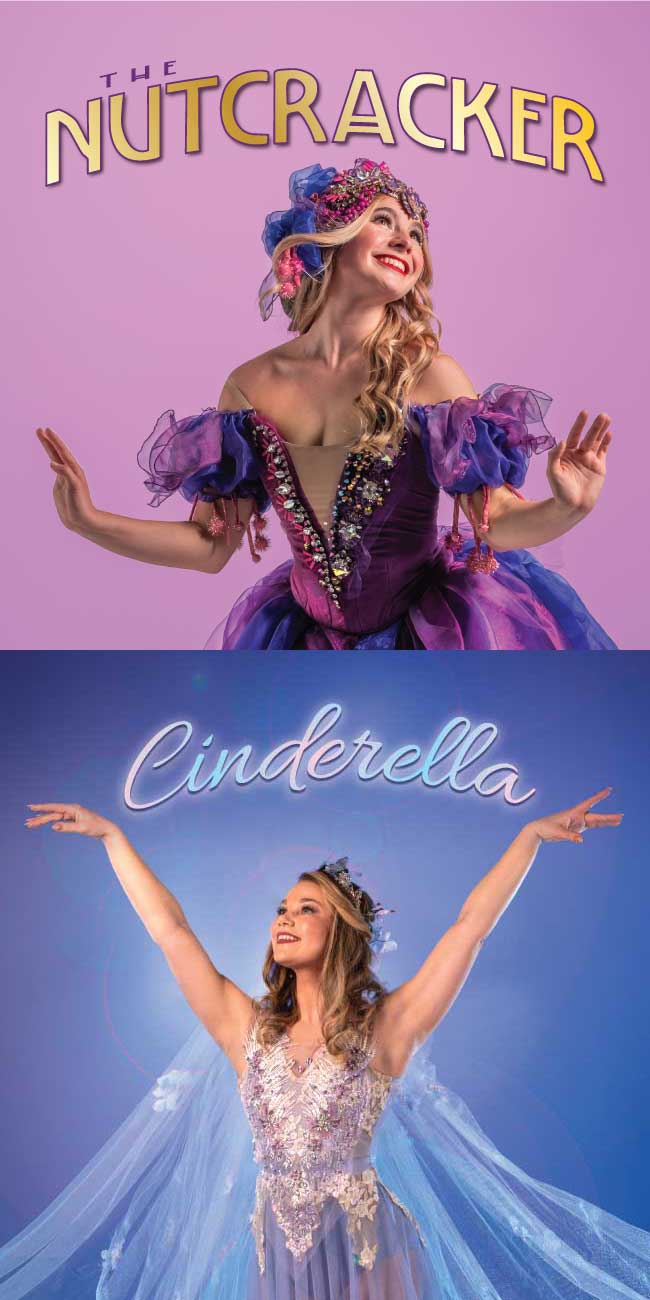 Attention dancers (and singers): Here's your chance to audition for roles in American Midwest Ballet's Season 14 productions of The Nutcracker and our new world-premiere ballet Cinderella!
Roles are available for dancers ages 9+, with separate audition groups for ages 9-11 and ages 12+. Auditions will be conducted by members of the AMB artistic team.
We're also seeking singers ages 12+ to perform in the North Wind Chorus in The Nutcracker.
Pre-registration is required to audition. For more information and to pre-register, visit the audition page:
AMB JUNIOR COMPANY AUDITIONS
SATURDAY, JULY 29 • HOFF CENTER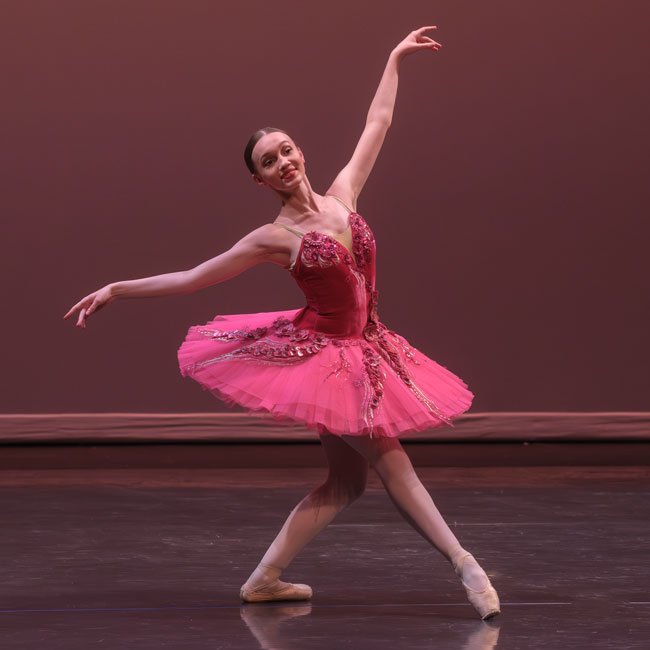 The AMB School's Junior Company is a prestigious pre-professional program for advanced ballet dancers. These highly motivated students gain exposure to professional ballet company life, with opportunities to study with artistic staff, learn company repertoire, shadow professional dancers, and improve technique and artistry.
Auditions for the 2023-24 Junior Company will be held in conjunction with community auditions for The Nutcracker and Cinderella (see above.) You may audition for either or both opportunities. To pre-register, use the Audition Info button above.
For more information about the Junior Company, including participation requirements and costs, please visit the Junior Company info page:
---
American Midwest Ballet offers performance opportunities for community dancers as part of our ongoing commitment to dance education and community engagement. Your support makes these programs possible. Click here to learn more.