OMAHA — February 23, 2016 — This April, dancer and choreographer Thom Dancy of The Big Muddy Dance Company (St. Louis, MO) brings the unconventional and lauded You've Gotta Be Kidding Me! to American Midwest Ballet's Momentum: Go West!
We recently had a chance to talk to Thom about this brilliantly zany work.
Tell us why you created You've Gotta Be Kidding Me!:
This piece was originally commissioned by Patricia Barker, former principal ballerina at Pacific Northwest Ballet and artistic director at Grand Rapids Ballet, for a dancer's retirement send-off. It stems both from the concept of leaving the world of classical ballet behind and the love-hate relationship all dancers share with our technical progress. You love dance, yet you cry over it. Such a relationship with an art form is incredibly fascinating.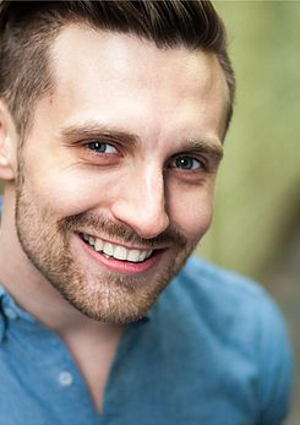 Audiences will immediately notice a mischievous and playful quality to this piece — similar to your spirited and highly entertaining work Prom and Sensibility. Is this the style of work you prefer to create? 
Thank you for the compliment! Yes, I gravitate toward work that pokes fun at itself. I like to laugh, and seldom take myself too seriously. I think the choreography I produce is my personality transferred to the stage.
It is refreshing and rare to see a work created specifically for two male dancers. What qualities were you looking for when casting this piece?
One tall and one short dancer! Beyond that I also needed a virtuosic dancer who had the ability to act, which is hard to find.
One of the roles is thoroughly dynamic while the other is static and nearly immobile. What are some of the challenges of each role?
Beyond hitting the steps, the person in the dancing role — the shorter dancer —  has to stay constantly engaged in the playfulness of the character. The short guy loves the tall guy; he hates him; he pushes him; he moonwalks away. It is a test of how engaged within a character the dancer can stay.  The tall man has to fight laughter the entire time. The climbing scene in particular is no easy feat. He has to stay grounded and look like he isn't helping another man to scale him like a wall.
Who are some of your biggest influences?
I love Harrison McEldowney's work. He is one of the few people I know that successfully plays with humor. The way he works reactions into a story line is incredible. I also love the works of Sol León and Paul Lightfoot, as well as Crystal Pite — works that are based in ballet technique, but where intricacies beyond the norm have been explored.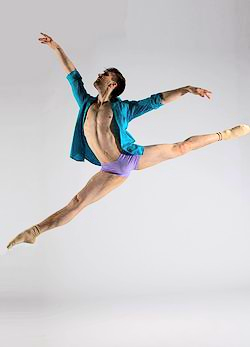 How did you first become interested in ballet?
I discovered dance in college. I was training to be a classical singer when my vocal instructor suggested I pursue musical theater. I love musicals, but after seeing my first ballet I was hooked.
Do you consider yourself primarily a dancer or a choreographer?
I consider myself evenly split between the two. I love both!
How does performing compare to the process of creating pieces for others?
In performing, especially in newer contemporary works, you have to silence your individuality in the studio and become a blank slate to be created on and have work translate through you. You will always move in a way that is distinctive to you. You should expose that for choreographers to use, but you have to be open to what a creator needs.  As a choreographer, you get to let your inner individual completely thrive. The beauty of being both dancer and choreographer is that I can take the lessons I learn when I am the "paintbrush" for another choreographer and translate them to how I work when I am  "the painter."
Do you dance in any of your own works?
No, I do not dance in my own works. They're too hard – haha!
What would you like people to remember about You've Gotta Be Kidding Me! when they leave the theater?
That it made them smile, and that I told them a unique story.
What are some things you still aspire to do in dance?
There are a few choreographers whose work I would still like to dance, and eventually maybe make a shift to musical theater. I think a year on a national tour could be a lot of fun.
What inspires you to get up every day and do what you do?
The people I work with at The Big Muddy; the way some of them move and the desire that we all have to make a name for St. Louis keeps me going and excited to dance. After so many years together, we are a loving, albeit dysfunctional, family!
Don't miss Thom Dancy's You've Gotta Be Kidding Me!  featuring American Midwest Ballet's Sasha York and guest artist Camilo Rodriguez in Momentum: Go West!