OMAHA — March 1, 2016 — Of the many hats worn by artistic director Adam Schnell of Ballet Vero Beach (Florida), his favorite is that of cook. "If I can get in the kitchen during the day to make dinner," says Adam "somehow everything seems better."
Adam will swap his chef's hat for that of guest choreographer as he shares one of his creations — made in the dance studio this time — with American Midwest Ballet this April. The powerful and compelling Finch Concerto makes its Omaha premiere in American Midwest Ballet's Momentum: Go West!

Tell us about Finch Concerto
Finch Concerto reflects my journey in becoming an artistic director. I wanted to explore themes of leadership and how an individual can influence others into seeing things from their perspective.
The 'Finch' in Finch Concerto refers to the composer Catrin Finch whose work is the music for your piece. How did your relationship come to be?
I actually heard Catrin Finch's Celtic Concerto while driving down the road listening to NPR. I immediately contacted her management team and secured the rights to choreograph to it. Not only is it her first ever composition, but I am the first choreographer ever to put his mark on the work.

What are you trying to share with the audience through this work?
First and foremost, the amazing score itself; I cannot believe how much the dancers and I love this music. It actually brought people to tears when we were creating it.  I just hope people come away from the piece thinking about individual versus group dynamics. I am fascinated by all that!
What would you like audiences to remember about Finch Concerto?
I just want them to have a good time! The greatest compliment I have received in my career was that people came to see Finch Concerto more than once at its world premiere in Florida. People called up their friends upon leaving the matinee and came back with them to see it later that evening. I am so happy to have my work seen by Omaha audiences again.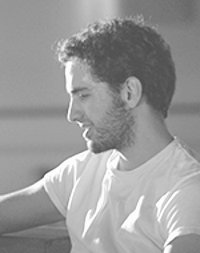 When did your interest in choreography begin?
I'll leave the embarrassing stories about choreographing for stuffed animals and ceramic figurines as a child aside. My first choreographic steps were in musical theater. I choreographed a production of Gypsy when I was thirteen.
Whose work inspires you?
Samuel Kurkjian without a doubt; he was my mentor in school. He didn't teach me to choreograph, but invited me into the studio to watch him work. Samuel had such an impact on me that two of his works remain in my company's permanent repertoire.  I am inspired by all those who choreograph musically and with integrity and honesty.
Do you feel there is one quality that remains constant throughout the works you create?
Again I would say musicality. All of my dances spring forth from the music. Beyond that, there will always be a classical element to my work. No matter what, classical ballet still inspires me. There isn't anything quite like it!
How does performing a work compare to the process of creating a work?
Yikes! This is going to come out way wrong, but I think as a performer, you have to be selfish; as a choreographer, you have to be selfless. My favorite thing about both is that each can be totally insular. Both as a performer and choreographer, you can completely disappear inside a piece. That is a wonderful thing.

Do you still dance?
I don't dance anymore. I still take class, but I do not appear on stage. I joke that if the audience was paying enough, I would make an appearance…so far no offers!
How did that transition come about?
Honestly, the transition came about because I was tired. I wanted to make way for the next generation. I knew I did not have the hunger that one needs to be a professional dancer. I miss being onstage every single day though.
What is a typical day for you in Florida?
In a word: hectic. I usually try and get into the studio between 7:00 and 8:00 a.m. to do at least a barre. Then it is off to the office — my dining room table — to work on Ballet Vero Beach stuff. I do choreography for the drama troupe at the high school, so most weeks I have to take a break midday to go work with them, not to mention meetings, etc. My teaching day starts between 3:30 and 4:00 p.m. and I usually teach two to four hours a night. Wow, in reading that back, I should probably be sleeping now.
We are excited to have you back in Omaha. What have you missed about the Big O? Do we even call it that anymore? 
I absolutely refer to it that way! It is all about the food. If I don't get [to eat at] Greek Islands when I am in town, I kind of have a meltdown.
What are some things you still want to do in dance?
For me, it is now all about giving the next generation a chance to do some of the things I got to do. It is all about giving back to young dancers, choreographers, musicians. I am so thankful to have the opportunity to work with our dancers and bring the art form to which I have devoted my life to as many people as possible.
.
Adam Schnell's Finch Concerto is among the featured works in  Momentum: Go West!