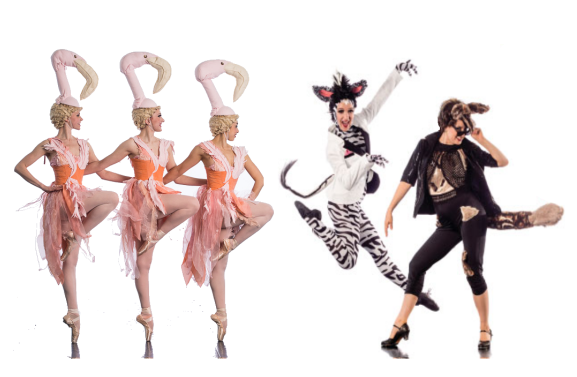 |slideshow| Party Animals, Erika Overturff's new ballet featured in American Midwest Ballet's Momentum, showcases a parade of exuberant and personality-laden animals from the African savanna.
With music from the 1960s and choreography inspired by the characteristics of each animal, this fun, high-energy ballet showcases the athleticism of American Midwest Ballet's professional dancers while incorporating a distinctively 'groovy' style and a bit of humor.
Of course, the costuming has to live up to the story. Take a peek at the  drawings upon which the stunning animal-themed costumes were created to personify each animal's personality — with a twist: they're dressed up for a night on the town in a 1960s nightclub. Intrigued? So are we!

Look for these fun characters, among many others…

A graceful hippo
A flirty little bird
A pair of cheetahs in a fast cha-cha
An elegant gathering of flamingos
A majestic lioness
A python leading a seductive dance with a gazelle