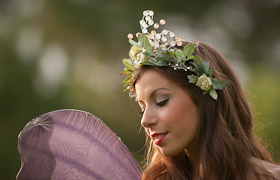 American Midwest Ballet's production of 'A Midsummer Night's Dream,' choreographed by Oskar Antunez, closely follows the storyline of Shakespeare's famous play — with a few balletic twists — and draws its movement inspiration from Felix Mendelssohn's widely-known musical score. While audiences will have no trouble recognizing and following the story, we thought these background facts might provide some interesting background.
About the story
Click here for a full synopsis of the storyline as used in the ballet, in downloadable PDF format.
Oskar Antunez, Guest Choreographer
Oskar Antunez toured extensively throughout the United States and Europe while performing with
Les Grands Ballet Canadiens, the Harkness Ballet of New York, and the Royal Danish Ballet.  He made his choreographic debut with the Royal Danish Ballet, gaining nationwide acclaim for his original works.
Equally accomplished in ballet, classic jazz, and musical comedy, he staged time-honored classics and choreographed numerous and varied contemporary works for the Montgomery Ballet, where he was Associate Artistic Director and Resident Choreographer from 1996 to 2007.  His choreographic works include Tchaikovsky's Nutcracker, Stravinsky's Tango, Huapango (with music by Pablo Moncayo), The Planets (with orchestral suite by Gustav Holst), Gatsby (set to music from the Roaring '20's), A Midsummer Night's Dream, Romeo and Juliet, Joey's Jest, Carmen, Peter & the Wolf, Carnival of the Animals, and Red, White & Blue.  In 2006, he presented his newest full-length ballet, Alice in Wonderland, based on the classic children's novel by Lewis Carroll.
A native of El Paso, Oskar received his early training from Ingeborg Heuser, was Assistant Director and Ballet Master of Ballet El Paso for ten years, received a degree in Ballet Performance from the University of Texas – El Paso (UTEP) in 1993, was on the dance faculty at UTEP and the El Paso Community College, and served on the Dance Advisory Panel on the Arts of Texas.
Felix Mendelssohn, Composer
Felix Mendelssohn [1809 – 1847] was born in Hamburg, Germany, into a prosperous banking family, and was recognized early as a musical prodigy. He began taking piano lessons from his mother at age 6 and made his first public concert appearance at age 9. He was 17 when he wrote the overture for A Midsummer Night's Dream, in 1826. He then moved on to composing symphonies, concerti, oratorios, piano music and chamber music, while also enjoying a distinguished career as a conductor. Sixteen years after composing the overture, he returned to A Midsummer Night's Dream, when he was commissioned to write a suite of incidental music for the entire play. It remains one of his best-loved and most-widely-performed works. [Source: Wikipedia]
William Shakespeare's A Midsummer Night's Dream
As with all of Shakespeare's plays, A Midsummer Night's Dream was never published officially during the playwright's lifetime, to prevent piracy by rival theater companies. Experts believe it was written around 1596, possibly in honor of an aristocratic wedding.
While Shakespeare often based his plays on older works, A Midsummer Night's Dream is one of only three (the others being The Tempest and Love's Labour Lost) in which the main plot appears to be completely original.
Still one of Shakespeare's most widely performed works, it also has inspired adaptations including musicals, ballets, and films – including a 1935 production with a cast that included James Cagney, Mickey Rooney and Olivia de Havilland, which earned an Oscar nomination for Best Picture. [Source: Wikipedia.]