We sat down with American Midwest Ballet's ballet master, Matthew Carter recently to learn a little more about his life, his work and what drives his personal momentum.
Tell us about your career path. What brought you to Omaha?
Ten years ago I was a dancer and assistant director for a company in Pennsylvania, but felt I was in a rut. Since a dancer's prime years are rather limited, if I was going to make a move, it needed to be soon.  I decided if I did not get another dance contract, I would move on to a different career path. I auditioned at Omaha Theater Ballet on a whim. I was offered a contract, and that was that!  I never thought I'd stay in Nebraska, but it has become my home and I have learned to love what Omaha has to offer.
Can you share a bit about your original work Bacchanale Variations?
I was thrilled when Erika invited me to create a piece. How many choreographers wish they could stage their work on such talented professional dancers! My work, Bacchanale Variations, features music by Charles Gounod. This is also the same ballet music featured in the opera Faust. I hadn't choreographed a classical ballet piece in a while, so this was the perfect opportunity. Bacchanale Variations is a work for four women, danced on pointe.
Is there a story to Bacchanale Variations?
There is no plot. It is all about beautiful music, glamorous ballet dancers and virtuoso dancing. Choreography often requires tweaks and changes over a period of time before it feels right, but this work just seemed to flow out of me.  The last time we rehearsed, the four women cast in the work danced it beautifully. It all came together just as I had imagined.  I really love it. It's one of my favorite things I have choreographed.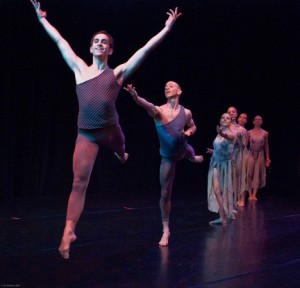 Who were some of your biggest influences and inspirations? Sharon Filone, my ballet teacher, and Sandra Little, my jazz teacher, shared their discipline, technique, creativity and passion for the world of dance and shaped me into the dancer (and person) I am today. Sharon passed away shortly after my move to Omaha, but Sandy still directs the school where I trained in Pennsylvania. She also serves the role of advisor for Motion41 Dance, the dance school I own here in Omaha with former dancer Susan Chowning. Sandy's continued involvement means a lot to me. I channel Sharon and Sandy's professionalism, dedication, eye for detail, and caring into everything I do for the company and the dance school.
What is your favorite style of dance?
I love them all and can't imagine life if I had to choose only one.  As a choreographer, I'd have to pick ballet.  You can infuse almost any other genre of dance into ballet and make it work.  A talented, well-trained ballet dancer is exceedingly versatile, which is not necessarily true for other dance styles or dancers.  As an audience member though, I appreciate all dance that is thoughtful and well done.  The Rockettes are brilliant; break dancing can be awe inspiring; a fierce tango can put you on the edge of your seat. Dance is my life and I try to take in anything I can.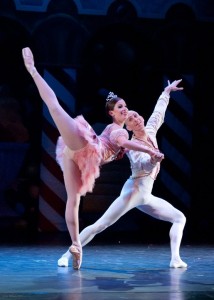 How have you seen yourself progress as a dancer and choreographer?
Dance is really a way of life, not just a profession, so I think my evolution as a person is linked to my growth as a dancer.  I'm much more self-accepting of my dancing now. I understand that one little bobble or mistake on stage doesn't ruin a performance or diminish my worth as dancer.
I also know my body and know what I'm capable of. If another choreographer asks me to do something that just won't work on my body, I know what I can give that will come closest to what they are trying to achieve.  I've also learned which characters and moods I can pull off realistically. There is a little piece of every character we play inside all of us. Now I understand better how to still be me, while showing aspects of the persona I am dancing.
The in-between steps are just as important as the flashy ones – if not even more so.  In my own choreography, I've learned that less is more.  Edit, edit, edit! Too many steps can become a jumble.  I have to love the music.  I also have to adapt my work to the dancers. If they don't understand what you're trying to say, if they don't look good doing your steps, it doesn't matter how brilliant your choreography is. It won't work.
What motivates you?
Being thankful keeps me motivated.  I have family and friends who love and support me. I have a tiny house that I adore and two dogs that I spoil rotten. I work with professional dancers and talented students every day. I get to explore my imagination on a regular basis. Some days really test energy and fortitude, but in the end I am living a life filled with dance that I only dreamed about as a kid.