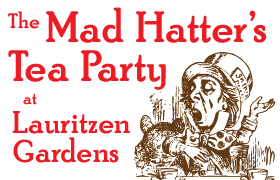 We had a feeling when Alice from Wonderland showed up at American Midwest Ballet's Nutcracker Tea party that something might be brewing…
The American Midwest Ballet Guild recently announced that it will host the "enchantingly odd" Mad Hatter's Tea Party at Omaha's own wonderland, the Botanical Center at Lauritzen Gardens. The tea party takes place on Sunday, April 14, from 2 to 4 pm.
The company's professional dancers will drop by in costume as characters from the ballet's upcoming production of Alice in Wonderland at the Arts Center at IWCC  April 26-27.
Guests will enjoy delicious tea party fare as well as an afternoon filled with  fun activities including face painting, balloon artists, crafts and several short performances from the ballet.  It is rumored that the guest of honor, Alice, may even stop by to read a story.
Reservations for the Mad Hatter's Tea Party are $25 each for children and $35 each for adults.  A portion of each reservation is tax deductible.
Reservations are now closed.

Tickets for American Midwest Ballet's production of Alice in Wonderland are on sale now.