Last year, a complex injury left ballerina Katie van der Mars unable to dance perhaps her most cherished role: the delicately regal Sugar Plum Fairy in The Nutcracker. But after months of hard work in therapy and conditioning, Katie again will be able to take the stage this year as one of the ballerinas performing this signature role.
Here, she shares with us her feelings about her role, her work, and her life, including an exciting upcoming chapter: her wedding in May 2020!
Tell us again about how you first fell in love with ballet: 
 I honestly don't even remember a time in my life when I wasn't dancing. My parents took me to see The Nutcracker when I was 2-1/2. They tell me I was mesmerized during the 1st act and danced my way through the aisles in the second act. The Nutcracker was also the first professional ballet I was ever a part of as a young dancer. I've been a baby mouse, an angel, and a party girl looking up to the grown-up professional dancers, so this ballet is incredibly nostalgic for me.
You first performed the role of Sugar Plum Fairy in 2017. How does it feel to return to this role again with a fresh perspective and a brand new partner? How are you approaching the role this year relative to your first time? 
This role is a dream come true for me and I can't even begin to express the gratitude I feel to get another crack at it. This is the role that made me want to dance in the first place. For years, I watched different dancers at work each bring such individual beauty and unique strength to this part, but at the same time I wanted to find my own voice and presence as Sugar Plum, and I feel like that still rings true this season. Roles like these are always a work in progress.
 For me, Sugar Plum Fairy is the aura and atmosphere you create. She's delicate, yet commanding and it's very important to me, that she stays connected to Clara… after all, it's all about that little girl! You have to bring warmth and Christmas magic to the whole evening. 
The variation (the portion of the pas de deux where the ballerina dances alone)  is the most nerve-racking, in my opinion. It is one of the single most recognizable pieces of music to everyone, balletomanes and non-balletomanes alike. It has to be pure, musical, and crystalline. The rest of  divertissements in the second  act are so energetic and colorful, but when you step onstage for the pas de deux with your Cavalier, it feels like a deep, renewing breath. Don't get me wrong, it's long and tiring but it feels so satisfying to dance. The music is so emotional that it carries you through the fatigue. 
It's been really fun dancing with Isaac Sharratt this year. I feel our energies match up well and he makes me feel like a better dancer than I am. We may be a new partnership but it feels like I'm dancing with an old friend. It's comforting being onstage with someone else. You're in it together, you give each other energy and encouragement throughout. 
Ultimately, my goal for myself this Nutcracker season is to savor these moments (especially after the uncertainty of last season and my injury). I just want to do my best to live up to the wonder I felt the first time I saw the Sugar Plum Fairy as a young one in the audience. 
What is a normal work day like for you? 
I usually wake up around 6:30 am so I can take my time in the morning. I'll drink my coffee and eat breakfast while having some cuddle time with my cats, then I'll start my daily regimen of physical therapy exercises to help warm and prepare the body for a day of rehearsal. Company class starts at 9:30 am, and then we dive straight into rehearsal. After a day of my own dancing, I spend my evenings teaching ballet to local young dancers. (Fun fact: Our Clara this year is one of my students at the AMB School).  Home to the fiancé for dinner together, and he often volunteers his elbows to dig into sore muscles before bed! I try to get a solid 8 to 9 hours of sleep a night to then wake up and do it all over again!
What other career might you have pursued if dance had not been your passion from such a young age? 
I love animals, so probably a veterinarian.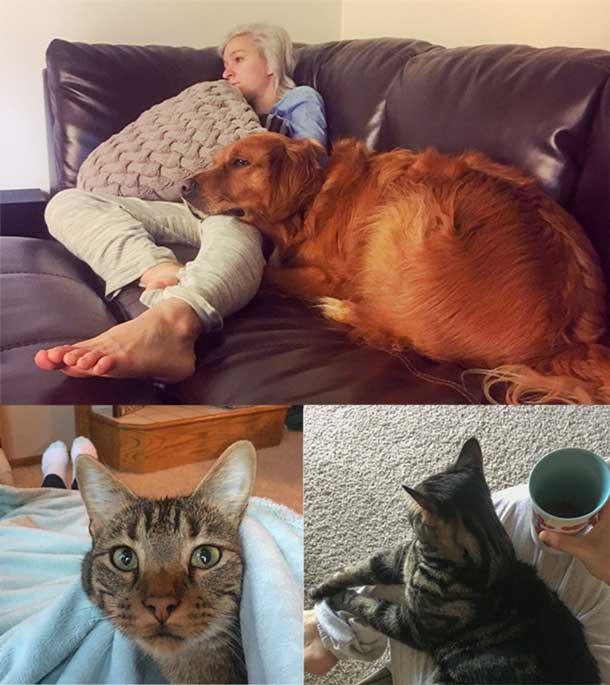 What do you see yourself doing 5 years from now? 
Starting a family! Becoming a mom would be the next dream role 🙂 
What advice do you have for those seeking to find happiness in their dancing? 
To find joy in the daily work and not to take yourself too seriously. It is so easy to get bogged down in negativity and self-deprecation, but you can only try to be better than you were the day before. Give it all you've got every day  because you love it and it makes your heart happy. 
ABOUT LIFE:
We hear that in addition to tackling leading roles, you are also in the midst of planning your wedding. Tell us about that.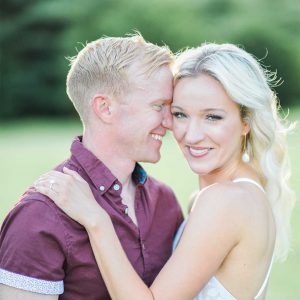 We are! Being a bride is the most fun! We got engaged on Christmas Eve 2018, so we spent the next month and a half or so during my winter layoff meeting with vendors and doing the majority of the planning. I have loved every minute of organizing all the details; from meeting with our florist, to dress shopping, to spending the afternoon with our fantastic photographer for our engagement shoot. Obviously there is still more to do, but we are sitting pretty comfortably with our planning progress – so I've just got to soak up each special moment until the big day: May 30th, 2020! I can't wait to be a Schutz! 
How did you and your fiance get engaged? Is there a fun story?
He proposed in front of our Christmas tree at home on Christmas Eve. He had sneakily placed the ring box under the tree while I was doing dishes after dinner. He had me fooled after telling me many times before he would never propose on a big holiday. It was romantic and personal, and was the first time I had seen him cry! 🥰 
What do you like to do on a typical day off? 
A true day off is rare. Sunday is the one day when our weekends align so we try to relax together when we aren't playing catch-up from the week or working on some house project. Taco night is our specialty and we love going on ice cream dates! 
INJURY & RECOVERY
So Season 9 went a little differently than you had hoped. Can you tell us about what happened / how your injury happened? 
Season 9 taught me that I wasn't invincible. I was sidelined for the majority of last season with a back injury. I had two herniated discs (one with a tear) and overall degeneration in my low back that caused muscle spasms that would make it impossible for me to stand upright. I had been dancing through pain for quite sometime, but my body finally decided enough was enough.  This time last year, it hurt to walk and do simple things around the house, let alone dance. Stephen (my fiancé) was a saint. He would have to help me get dressed, tie my shoes, or even get me in and out of the car.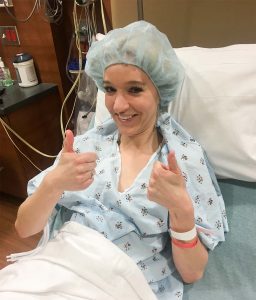 What was the official diagnosis? How was it treated?
I had several rounds of epidural spinal injections for both the L4-L5 disc and the L5-S1 disc space along with lots of physical therapy to treat both the injured discs and my sacroiliac joint stability. We focused on using the McKenzie technique (an extension-based therapy to treat the disc-bulge) and dry-needling to calm the muscle spasms. I was on a cocktail of different medications to treat inflammation and nerve pain to help make the physical therapy more comfortable. I also saw the chiropractor frequently. 
What kind of team did you have helping you to recover? How long did your recovery take? 
I saw a spine specialist (Dr. Matthew Hahn) for all my injections and Zachary Girthoffer for physical therapy, who also specialized in spine injuries and the Mackenzie Technique at OrthoNebraska. The recovery process took much longer than I had anticipated. That was probably one of the harder things to deal with, knowing that even though I was doing everything in my control to get better, ultimately my body needed time and rest. I would even over-do the PT sometimes. I had to learn a tough lesson in patience and that things don't always go as you planned. Overall, it was well over a year before I felt like I was back to my normal self without pain. I will forever be thankful for my medical team that got me through it! I am excited to have them in the audience this Nutcracker season…I can't wait to show them what they got me back to! 🙂
Can you share a little bit about how you felt during your lowest points during that time? 
The prospect of surgery was very scary. I had seen a spinal surgeon and the options presented to me were not going to keep me dancing, which was devastating. I felt betrayed by my body, while at the same time, I was trying to make peace with the fact that I already had a fulfilling career and this might be the end for me. It was a weird back and forth of trying to fight like hell to get back to the stage but knowing that I may never perform again. I felt like everything I worked for my entire life was being ripped away. I wasn't ready to be done dancing, so I kept at it, slow and steady. 
What gave you the courage to continue to show up every day you could during your injury? Were you able to attend classes and watch rehearsals, or did you recover at home?  
When I wasn't home recovering from injections or crippling spasm attacks, I was at the studio every day. Instead of taking class, I would use the time for PT exercises, and then I was present for rehearsals, and would help take notes for the dancers. It helped me, in some way, to feel useful and be there for my understudies if they had any questions. Not everyday was smooth sailing, though. I would simultaneously be so inspired by getting to actually watch my coworkers at work, but also heartbroken watching them execute steps I physically could not do. It was a mental rollercoaster. 
I had never felt such love and support from everyone at work throughout, whether it was cards received or videos they would send me while I was in the hospital. They all kept me brave though months of uncertainty. It's true what people say, we are a big family here.
Did you ever consider that you might not return to dance? 
Yes, and in those moments it was incredibly hard to stay positive. My identity is so wrapped up in being a dancer. I had to take care of my mental health and learn that my worth would not diminish if I had to step away from the stage. 
How did it feel to take the stage again this season? 🙂 
It feels like Christmas morning! What a gift to be back dancing at all! Now, more than ever before, I'm so grateful to call this my career. Even on the hardest, longest and sorest days, there's no where else I'd rather be. Being back onstage for Momentum was so cathartic, and helped restore my faith in my body that it could move like that again. 
What are you looking forward to for the rest of the season? 
I am excited to debut as Dewdrop Fairy in the Waltz of the Flowers, with Isaac as the Thistle, this Nutcracker season. I am also looking forward to dancing in Harrison McEldowney's Swing! Swing! Swing! this spring, since I was injured during the performances of his Group Therapy last Momentum. Onward to healthier days!