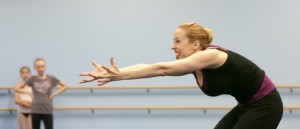 American Midwest Ballet artistic director Erika Overturff discussed the company's upcoming Momentum production in an interview Wednesday (February 2) on Omaha public-radio station KIOS-FM. You can listen to the interview in a link at the bottom of this post.
Erika and KIOS anchor Cheril Lee talked about the works on the program, including Erika's new ballet Connemara.
To hear the interview, click to play the MP3 file. For more Momentum info, read this post about the guest choreographers and their inspirations.