OMAHA — March 31, 2016 — Inspired by the spirit and stories of the American West — as well as Joslyn Art Museum's current exhibition — American Midwest Ballet's founder and artistic director, Erika Overturff, brings her much anticipated original ballet Go West! to audiences in this weekend's Momentum.
Erika discussed the creative process and influences behind Go West!, a nostalgic look at the rugged yet beautiful Western landscape woven through a series of short stories told through dance.

When you are working on a ballet where the subject is already decided —  as with the ongoing collaboration with Joslyn Art Museum — how does that unfold for you?
When creating a ballet in celebration of an art exhibit, the subject of the exhibit is what inspires the theme of the ballet, but the movement itself is always inspired by the music. With Go West! I found songs that told stories; that painted pictures with words. The lyrics together with beautiful melodies and exciting rhythms provided wonderful inspiration for these dances.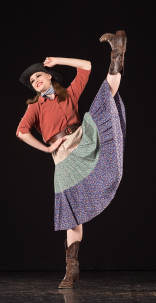 Tell us a little bit about Go West! 
In the opening of the ballet, I wanted to capture the excitement and energy of traveling west — wide open spaces; new opportunities; limitless possibilities. Think land rush.  Other scenes visit a lonesome wanderer drifting along with the tumbleweeds, a man longing for his lost love, weary and thirsty travelers, raucous cowboys riding the herd, pioneers with a love for the land, lightning-quick yodelers, and exuberant square dance couples.
What was your biggest challenge creating this dance?
The logistics of casting and costume changes. This ballet involves all of the dancers in the company in 14 different dances. I knew who I had wanted to cast in a particular section, but making all of the sections flow together in an order that makes sense and creates a cohesive ballet, and also avoids dancers being in back to back sections,  is tricky. It's a big web, but there is always a solution!

What qualities were you looking for in your dancers that you wished to see reflected in your work?
One of my favorite qualities is musicality; being in a perfect union with the music. I also look for personality. I like to inject a bit of humor. Performance quality is so important to me because – whether we can make you smile, bring a tear to your eye, or make you laugh out loud- we want to connect with people on an emotional level.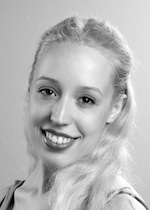 When did you first begin choreographing?
I was choreographing even as a young child. I remember creating a full Cinderella in my friend's basement with a cast of only four — my friend and I, plus our little sisters. There were also school talent shows and many living room performances. As a teen, I choreographed many dances for the students at my aunt's dance school. I went on to choreograph in college and then professionally.
How does performing compare to the process of creating pieces for others? What do you love about each?
While performing can be very fun, it culminates with you onstage and carries with it the pressure to execute difficult steps in a technically correct manner. You have to keep in mind technical corrections you've received in rehearsals and hit your correct spacing, while at the same time not getting too caught up in those things; equally important is connecting with the audience and being genuine in the moment. I love big, sweeping movements and big jumps.
For me choreographing is about playing in the studio, having fun, and refining ideas. It is a process I greatly enjoy!
What would you like people to remember about Go West! when they leave the theater?
I hope the energy we share is catching- whether people leave humming a tune, thinking back on a favorite moment, or realizing they simply must add a pair of cowboy boots to their wardrobe!
Go West! is showcased in American Midwest Ballet's Momentum: Go West!