OMAHA — April 12, 2018 — Ballet Nebraska's Artistic Director and CEO, Erika Overturff, has performed in and directed A Midsummer Night's Dream several times.  Its enduring appeal has made it an audience favorite, as well as one of Overturff's personal  favorites.
The company brings Shakespeare's humorous tale of love, mischief and misunderstanding — as told through the strikingly elegant choreography of Oskar Antunez — to the Orpheum Theater on May 5 and 6.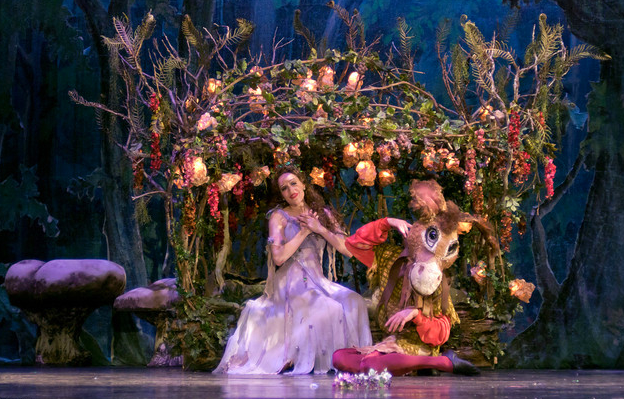 Tell us why this version of  A Midsummer Night's Dream is one of your favorite ballets.
Oskar's choreography is charming — and I forgot how technically exquisite and challenging it is until we started to restage it. The music of Felix Mendelssohn is wonderful; so expressive.
What is your favorite part?
My favorite part is probably the pas de deux between Titania, Queen of the Fairies, and Bottom, a man whose head has been transformed into that of a donkey. It is funny and sweet.

What is one of the more challenging parts to direct in this work?
There is a section we nicknamed "Fairypalooza." It has a lot of petit allegro (fast jumps), and is performed by Titania and her four fairies – Moth, Cobweb, Peaseblossom, and Mustardseed. It feels like a marathon to dance, but is a lot of fun at the same time!

Which character are you feeling a special affinity for, this time around?
All of them —  but of course, Puck. [Ballet Master] Matthew Carter is delightful in the role. His character is a prankster, causing a lot of mischief during the ballet, and Matthew plays it perfectly.

And those costumes…?
Yes! The costume designs are gorgeous. Our costume designer, Deborah Overturff, created the original costumes, and has remade them for our current production. I didn't know it was possible, but she has topped the originals this time around. I can't wait to see it all come together onstage!
______
Ballet Nebraska performs A Midsummer Night's Dream at Orpheum Theater in Omaha on Sat., May 5 at 7:30 p.m. and Sun., May 6 at 2:00 p.m.  Tickets are on sale now.