OMAHA, Sept. 25, 2015 —  One of history's most intriguing characters helps American Midwest Ballet launch its sixth season of professional dance on Friday, October 2, when it presents Cleopatra at 7:30 pm at Omaha's Orpheum Theater.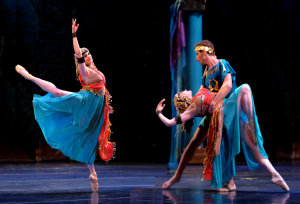 "Cleopatra is a fascinating historical figure, renowned for her beauty, intelligence, and political adeptness," says Erika Overturff, the choreographer of Cleopatra and the company's founder and artistic director. "She was highly educated, spoke a dozen languages, and was a capable administrator who first began to rule at the age of 18. Her story is both an epic clash of empires and a deeply personal drama — an ideal showcase for ballet's ability to combine visual spectacle with powerful emotion."
Related: Claire Goodwillie discusses her inspirations, aspirations and Cleopatra
Claire Goodwillie takes on the challenge of bringing the queen's personality to life onstage. An Omaha native who has danced professionally since the age of 19, Goodwillie has performed many featured roles in the ballet company's productions including Giselle, Paquita, and George Balanchine's Valse Fantaisie. But she says Cleopatra is by far the most complex character she has ever portrayed.
"I've danced characters that are evil, or flirty, or mysterious, but never one who displayed more than a single characteristic or emotion at the same time," says Goodwillie. "Cleopatra displays many powerful emotions, including love, anger, betrayal, total devastation, and hopelessness, just to name a few. I'm excited to dance such a complicated character.".
American Midwest Ballet is the region's professional dance company. Season Six is sponsored by Omaha Steaks, with major support for Cleopatra from the Iowa West Foundation, and additional support from the Nebraska Arts Council, Nebraska Cultural Endowment, and Douglas County Visitor Improvement Fund.