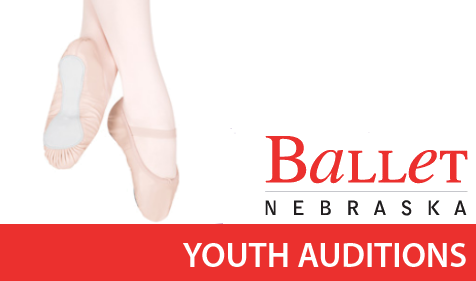 OMAHA — May 8, 2015 — It's that time of year! American Midwest Ballet is excited to announce youth auditions for the 2015-16 season this month. There is never a fee to audition for any youth performing groups or student roles in company productions.
American Midwest Ballet II (audition: May 15)
Learn more | Register here
Students ages 14 and older who meet the required ongoing ballet training requirements at any area dance schools are invited to audition. Selected students train weekly with the artistic director and take one class per week with the company.
Repertory Ensemble (audition: May 15 or Aug. 27)
Learn more | Register here
A youth dance collaboration between American Midwest Ballet and Motion41 Dance,  student members of junior (age 8+) and senior (age 13+) repertory ensemble groups meet weekly to rehearse a variety of dance styles for local and studio performances during the season. Students from all dance studios are welcome to audition.

Upcoming auditions:
* Dance students from the community are also encouraged to audition for student roles in American Midwest Ballet's The Nutcracker on July 10 and 11. | Details TBA
* Auditions for singing roles in North Wind Chorus, a collaboration with Opera Omaha, will take place later this summer. | Details TBA
See all American Midwest Ballet youth audition opportunities.