Dance students know her as "Miss Susan", the smiling face welcoming them for class each day and the encouraging voice nurturing their talent and inspiring them to take their dance to the next level. But for Susan Chowning, sharing her passion for dance started long before becoming the Director for the American Midwest Ballet School.
Today we are shining a light on our incredible School Director, Susan Chowning, whose skilled leadership and passionate enthusiasm make AMB School an amazing place to learn and grow as a dancer.
POWER IN PERSEVERANCE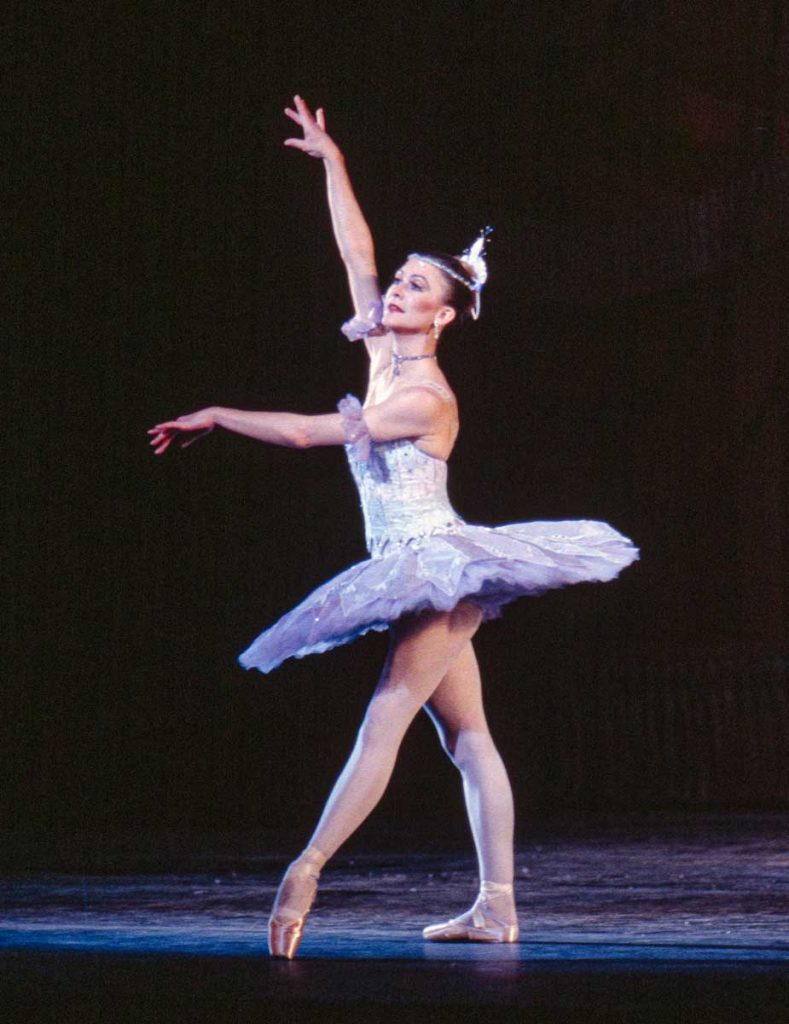 Susan Chowning led an exciting career as a professional dancer. Unlike many professional dancers who immerse themselves early-on in intensive study and practice of the artform, Susan started relatively later in life, showing that it's never too late to pursue your goals.
"While I took a few classes when I was three and four, I never really pursued it in any manner," Susan recalls, "It wasn't until later that I started going back to classes, and I went to a studio in North Carolina where they saw potential in me. They suggested I go to apply to the North Carolina School of the Arts summer program, which I did. And then they asked me to come back for the year-round program, which I did. So I was there from tenth grade through graduation from high school."
Upon graduation, Susan danced on scholarship for the Harkness Ballet of New York. While in New York, Susan embarked on her career as a professional dancer, which included performances with a multitude of companies such as Ballet of Contemporary Arts, Westchester Dance Theatre, Festival Dance Theatre, American Repertory, The Metropolitan Opera House, and Connecticut Ballet.
While she danced many roles across her career, including the Sugar Plum Fairy in The Nutcracker, Belle in Beauty and the Beast, and the title role in Cinderella, two roles stood above the rest.
"My favorite roles were Juliet in Romeo and Juliet and Lucy in Dracula. There was a lot of acting to it and emotion; it was not just doing the steps, but you got to really tell a story. I love the added challenge of story ballets."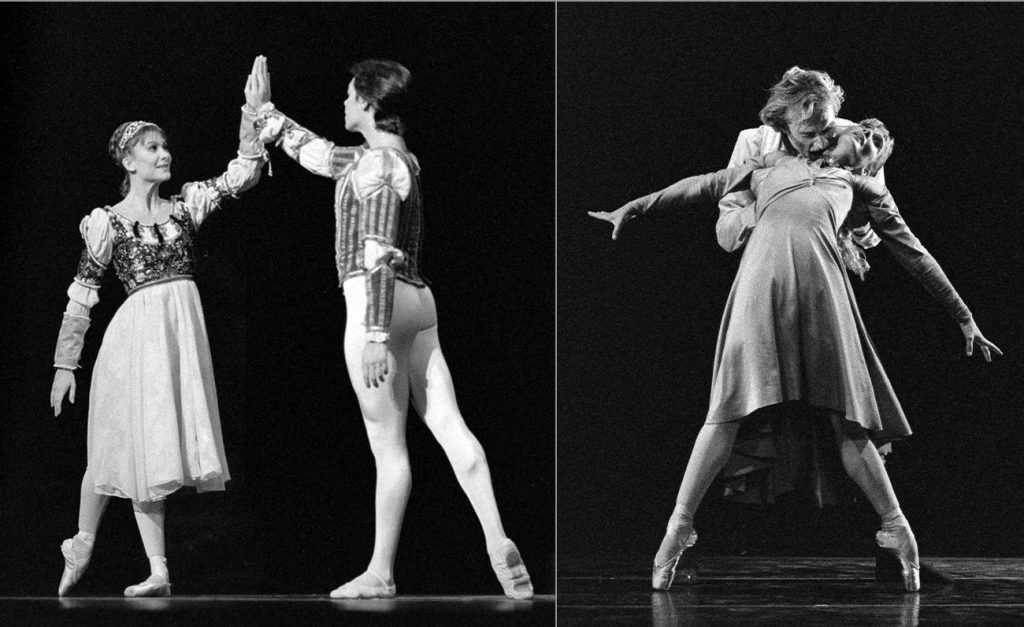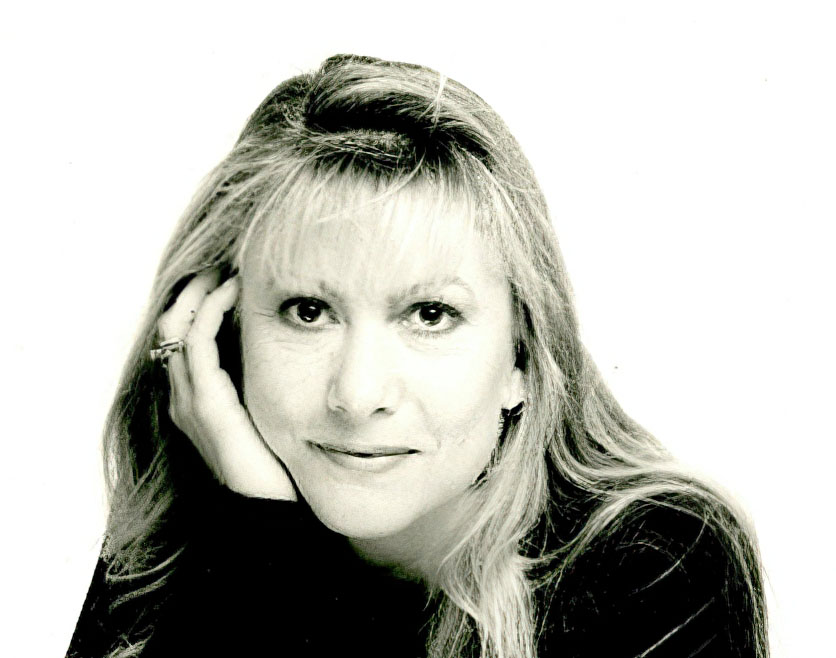 "A career in dance lets you know the passion and drive it takes to succeed. So when you see a child with that same passion, who is totally engaged, and who really wants to be a part of the art form, you know you're passing down something important. It's handing down your craft. It's continuing a tradition."
Susan Chowning
AMB School Director
WALKING IN SUSAN'S SHOES WAS LITERAL FOR SARAH
Fortunately for AMB, Susan's professional career eventually brought her to the Midwest. Susan danced with Ballet Omaha for ten years until the company disbanded in 1996. She then shifted her focus to dance education, teaching ballet and pointe classes at the Omaha Theater Ballet. For Susan, inspiring the next generation of dancers is a responsibility she has taken to heart during every step of her career.
"When you're in a professional company, there are always children around. To them everything you do is magical," says Susan. "You're almost not real. You have to realize you are a mentor to the kids looking up to you. They see everything you do, everything you say, even how you approach your dance. When you walk down the hall – even if you're not officially their teacher – as a professional dancer they admire you, so you're a teacher."
This couldn't be more true for now-retired professional dancer and AMB's development director, Sarah Maloney, who remembers looking up to Susan as a student. "I'd seen Susan in The Nutcracker and countless other productions," Sarah remembers. Sarah was a Ballet Omaha dance student while Susan was a principal dancer in the company. "She was so beautiful when she danced, but the thing about Susan is she is also so nice to everyone. She would come backstage and tell everyone they did a nice job and what she liked best. Students and professional dancers were mostly separated then. You had a handful of final rehearsals together, but you didn't spend a lot of time with them. So the fact that Susan took the time to talk with the students was very special."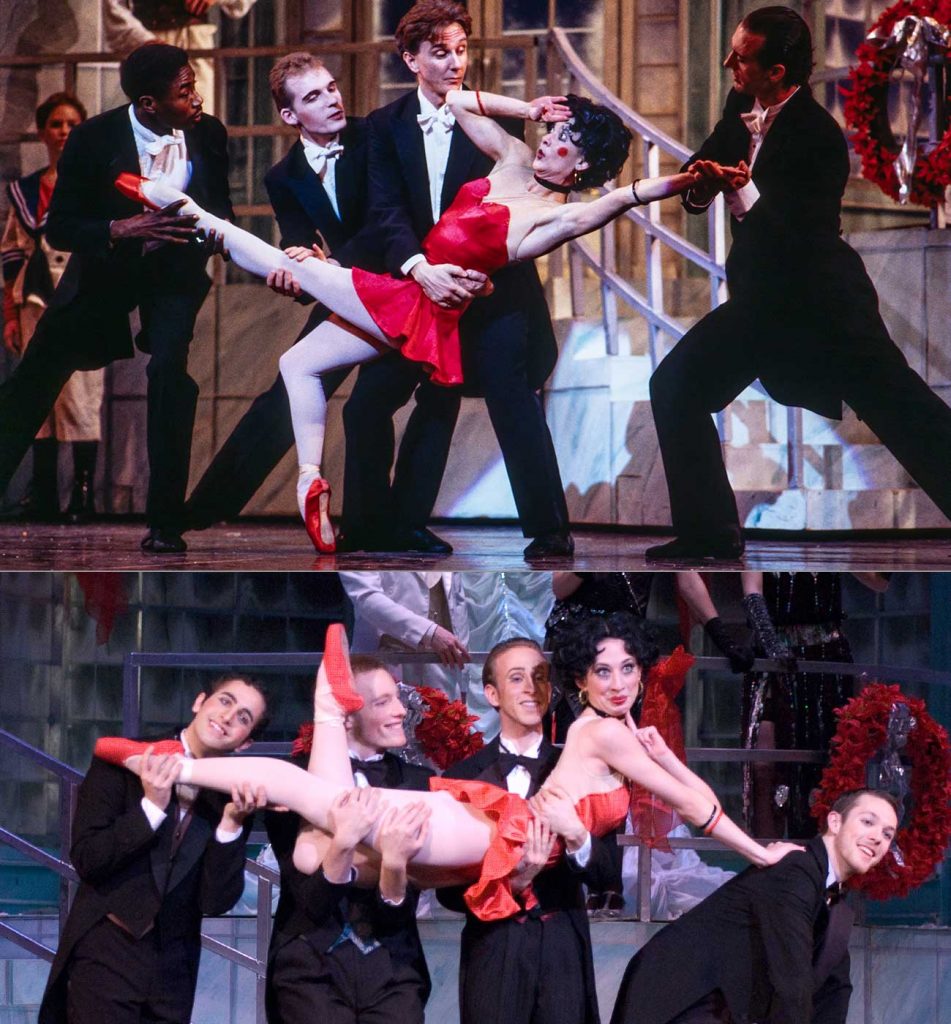 One moment in particular stands out in Sarah's memory. At age twelve, as Sarah was starting to learn to dance on pointe, she was having trouble with every pair of pointe shoes she tried, until she found the perfect pair: Susan's.
"I was lucky," Sarah says, "because I was invited to the costume shop to look at the extra stock of the company dancers' shoes. The shoes that I ended up getting were Susan Chowning's, which is awesome all on it's own. But the first day I was warming up in them, Susan came up to me – which was like Madonna coming up to you – and she said 'Oh those look really nice on you! I hope you like them. I know I have really enjoyed them'.
"As a dance student, that meant a lot to me. She took time out of her day to come say hi and just comment on shoes! That was something that I remembered through my entire career."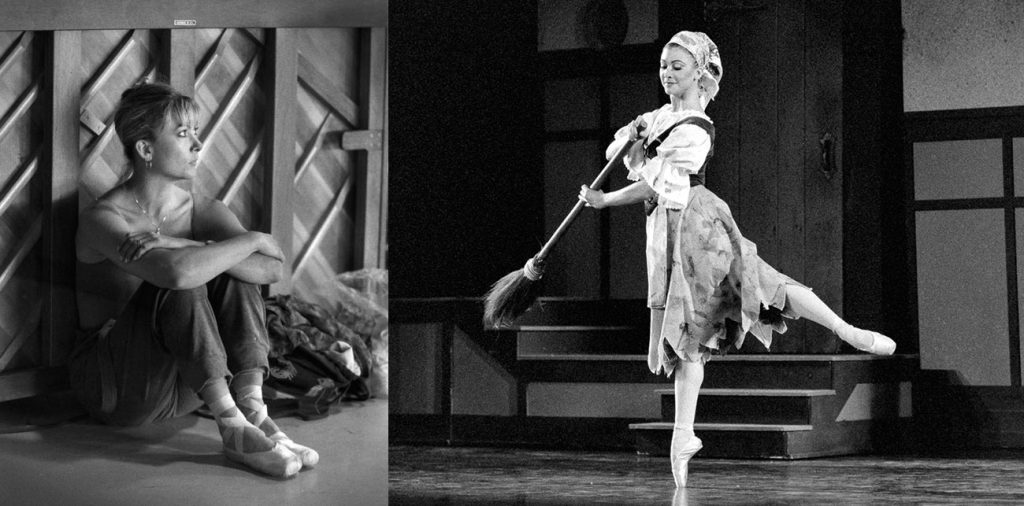 THE ROAD TO AMB
When financial hardships forced the Omaha Theater Ballet to close its doors in 2009, Susan wasn't ready to stop teaching dance.
"I love teaching. A career in dance lets you know the passion and drive it takes to succeed. So when you see a child with that same passion, who is totally engaged, and who really wants to be a part of the art form, you know you're passing down something important. It's handing down your craft. It's continuing a tradition."
Along with Matthew Lovegood, now Ballet Master for American Midwest Ballet, Susan opened Motion41 Dance to continue sharing her love of dance with students.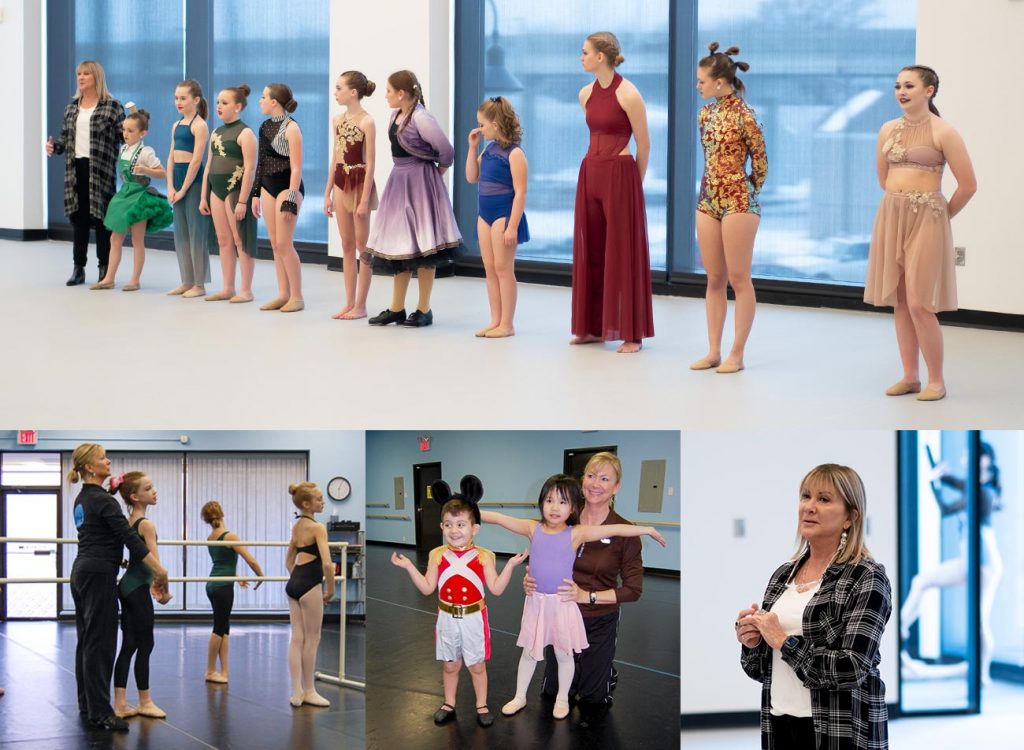 The closing of the Omaha Theater Ballet also left the future of professional dance in the community in question. But fortunately it wasn't long before Motion41 got a knock on its door with a very important question. "Erika [Overturff] let us know she was interested in starting a company. She asked if they could use Motion41 as their rehearsal studio, and I said 'Of course!' So I've been connected with AMB since its beginning."
That was the start of American Midwest Ballet, then Ballet Nebraska. Fast-forward through ten years of breathtaking American Midwest Ballet performances and engaging Motion41 classes. AMB was ready for its next evolution and Susan received another important question; American Midwest Ballet was ready to open a school and Susan was the obvious choice for Director.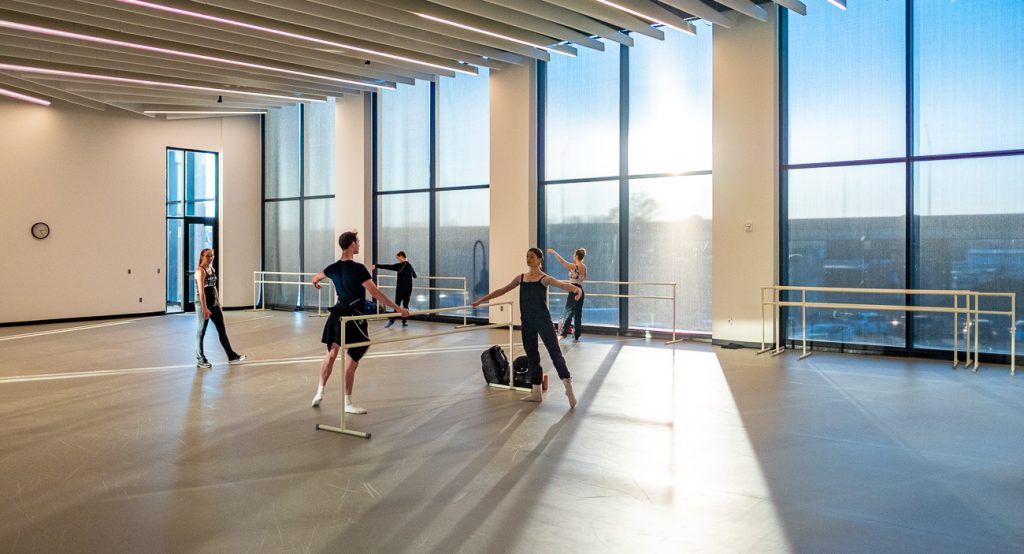 "Susan is an amazingly talented person. She has led an incredible career, yet remains down to earth and approachable," says AMB artistic director and CEO Erika Overturff. "Susan really cares about kids, and she is committed to passing on the art of dance. For years, she has been inspiring young dancers. There was no better person to lead the AMB School. We're so lucky to have a dancer of her caliber at the helm."