Omaha – July 31, 2012    If you are a patron of the arts in Omaha, you'll see familiar faces in several places this season, as evidenced by American Midwest Ballet and Opera Omaha's unveiling of four collaborative productions this morning on CBS Channel 3 KMTV's Morning Blend show.
View 'Morning Blend' interview here.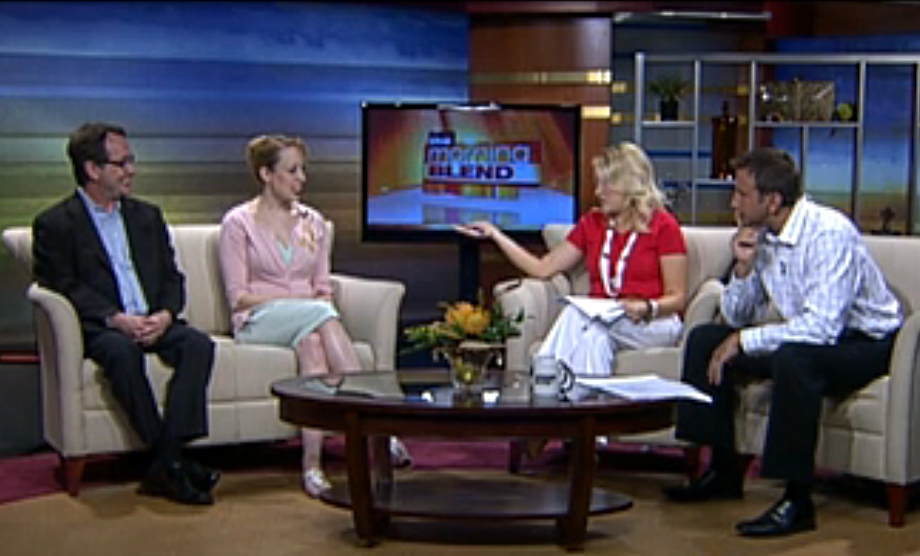 Omaha's professional ballet and opera companies will collaborate this season on several productions — beginning with a two-city performance of The Nutcracker at the Arts Center at Iowa Western on Nov. 30 and at Omaha Music Hall on Dec. 2. J. Gawf, musical director of Opera Omaha, will assemble and direct young singers for their performance as the North Wind Chorus during the Land of the Snow scene in American Midwest Ballet's version of The Nutcracker – which premiered on tour in 2010 and to Omaha and Council Bluffs audiences last year.
In turn, Gawf says "American Midwest Ballet is going to be involved in every one of Opera Omaha's productions this year."
Overtuff will choreograph and direct American Midwest Ballet's professional dancers for the opera's production of the beloved Verdi classic La Traviata Oct. 5 & 7 at Orpheum Theater.
American Midwest Ballet dancers will also appear in movement for scenes in Jun Kaneko's stunning new production of Mozart's The Magic Flute Feb. 22 & 24 at Orpheum Theater.
Bluebeard's Castle (April 19 & 21 – Orpheum) will not only feature professional guest dancers from American Midwest Ballet but also the Omaha Symphony on the stage — and marks the return of Hal France to the conducting stage.
In addition to its performances with Opera Omaha and The Nutcracker – including a touring production in Spirit Lake, IA – American Midwest Ballet will present a fall production of Momentum featuring Armando Duarte's Safona de Boca, Overturff's Tropico and Matthew Carter's Sadako (Oct. 19 & 21 at Witherspoon Hall, Joslyn Art Museum) as well as an adaptation of the Lewis Carroll classic Alice In Wonderland choreographed by master ballet storyteller Kennet Oberly (April 26 & 27 at IWCC Arts Center).