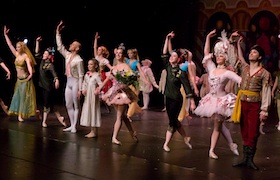 Over 120 young performers from throughout the community auditioned on July 16 for American Midwest Ballet's December 2011 production of 'The Nutcracker.'
Those chosen at the audition will join American Midwest Ballet's company of professional dancers when the company performs the classic holiday ballet at the Iowa Western Arts Center  on Decemeber 2 and at Omaha Music Hall in a special 2 p.m. matinée performance on December 4.
Choreographed by artistic director Erika Overturff, American Midwest Ballet's unique version of The Nutcracker broke attendance records when it made its premiere last year at the Sami Bedell Center in Spirit Lake, Iowa. With careful attention to clear storytelling and a masterful balance of reality and fantasy, the ballet recounts the magical story of young Clara, whose lively imagination leads her on a wonderful journey through dazzling scenes filled with lively, colorful characters.
Slideshow of images of American Midwest Ballet's
The Nutcracker
[portfolio_slideshow exclude="3319″ showtitles=true, showcaps=true, showdesc=true]