OMAHA — November 2, 2018 — From falling leaves to Christmas trees, the month of November means the holidays are just around the corner.
American Midwest Ballet opens the holiday season in a few weeks with a special pre-Thanksgiving performance of The Nutcracker at Iowa Western Arts Center on Nov. 18, followed by a three-show run at Orpheum Theater on Dec. 8-9.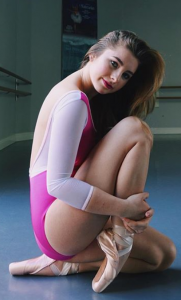 "I enjoy adding fresh elements to each season's production," says artistic director and CEO Erika Overturff, who also serves as the principal choreographer of The Nutcracker. 
During the holiday season, children often dream of getting a new doll as a present. At this year's production of The Nutcracker, Overturff will give audiences three of them.
"This year, I've created new interpretations of the dancing dolls who entertain the children in the ballet's opulent party scene," says Overturff. "There is a new Porcelain Doll who dazzles the guests with amazing turns, and a pair of Harlequin Dolls — jesters who charm everyone with their quick, sparkling steps."
The inspiration for Overturff's new choreography came directly from several of American Midwest Ballet's company artists.
"One of the benefits of a truly resident company is that I see the dancers every day and know each individual's strengths," says Overturff.
Overturff's vision for the Porcelain Doll came from dancer Whitney Walsh, who loves to do turn sequences.
"Often after our daily ballet class, Whitney will stay behind to practice turns and improvise new turning combinations," says Overturff.
The Harlequin Dolls are inspired by Alexandra Hoffman and Kelsey Schwenker, two dancers Overturff credits with "innate musicality" and "dazzlingly quick, precisely timed movements."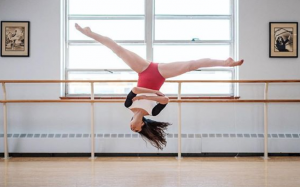 With a magnificent score by legendary composer Pyotr Tchaikovsky, a distinguished history, and a well-known story, The Nutcracker is an ideal platform for this type of inspiration.
Audiences are drawn to the ballet's memorable scenes and colorful characters: young Clara, whose dreams take her on a fantastic journey; her mysterious Uncle Drosselmeyer; the menacing Rat Queen; the delicate Sugar Plum Fairy; and more.
"Part of the enduring appeal of The Nutcracker is that it tells us something important," says Overturff. "It reminds us that imagination is powerful and worth cherishing. Ordinarily, a nutcracker might be just a kitchen utensil; but there's something about this Nutcracker that captures a little girl's imagination and leads her on a wonderful journey.
In addition to its Omaha and Council Bluffs performances, the company tours to three cities this holiday season: Spirit Lake, Iowa; San Antonio, Texas; and Vero Beach, Florida.
Tickets are on sale now.
American Midwest Ballet's season is presented with support from premier benefactors the Iowa West Foundation, the Fred and Eve Simon Charitable Foundation, the Holland Foundation, and Douglas County; season sponsors Omaha Steaks and the Peter Kiewit Foundation; and major support from Cindy and Scott Heider, the Nebraska Arts Council, the Nebraska Cultural Endowment, and the Sherwood Foundation.
Photo credits: Jim Williams, Juliet Walsh