Update: We have a winner! Connemara (Rock Pool) 1999-2001 is the art object Joslyn viewers have chosen to be the basis for the new ballet. The original story follows:
It sounds almost like a reality-TV concept: A professional choreographer is challenged to create and present a new ballet from scratch — after a public vote tells her what it's going to be about.
That's what's happening now as American Midwest Ballet and Joslyn Art Museum kick off a unique collaboration. Museum visitors are being invited to vote for one of three art objects from the Joslyn's permanent collection. After the polls close on November 15, American Midwest Ballet artistic director Erika Overturff will use the winning object as the inspiration for a new ballet, which will premiere at the company's Momentum concert February 11 and 12.
"We'll be presenting one Momentum performance at Joslyn," Overturff said, "so this seemed like a great way to bring the art audience and the dance audience together.
"We hope that the chance to vote will encourage our American Midwest Ballet fans to explore the Joslyn's permanent collection, and that Joslyn fans will be intrigued to see a ballet based on one of their favorite artworks."
Joslyn staff members helped Overturff survey the museum's permanent collection and select the three "candidates." They are (official Joslyn designations):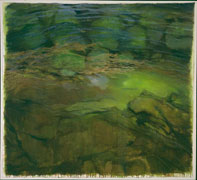 May Stevens:
Connemara (Rock Pool) 1999-2001
Acrylic on canvas with metallic ink.
Joslyn Art Museum, Omaha Nebraska: Gift in memory of Linda Albin by family and friends
JAM 2003.3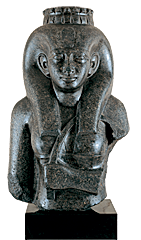 Unknown Artist, Egyptian; Kushite (Nubian):
Amenirdas I, Divine Consort
700 B.C.E.
Granite
Joslyn Art Museum, Omaha Nebraska: Museum Purchase.
JAM 1953.80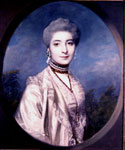 Sir Joshua Reynolds (English, 1723-1792)
Portrait of Miss Franks, 1766
Oil on canvas
Joslyn Art Museum, Omaha Nebraska: Gift of Mrs. Sarah Joslyn.
JAM 1934.428
Creating a ballet is hugely time-intensive, Overturff said; it can take several hours to create each minute of what the audience sees onstage. But she said she's determined to "play by the rules" and not start working before the votes are counted.
"I did try to pick artworks that suggested ideas for dance," she said, "and in some cases I've started thinking about music. But that's as far as it goes – I'll wait for the public to decide before I start working on the actual ballet."
Click here to visit Ticket Omaha for tickets to Momentum at Joslyn.