OMAHA — July 25, 2018 — When reflecting on their favorite part of a season, dancers will typically name a special role or a moment in the spotlight.
Even though American Midwest Ballet's Wyatt Payne had both of those things in his first season with the company, it is interesting that his favorite part of the season is tech week.
"I love tech week," says Wyatt. "Despite the long hours, it's awesome to spend so much time with the other dancers and really get to know all of them."
As our dancers prepare to begin work on a new season next week, Wyatt spent some time giving us a little insight into his own life. This time, it's our turn to get to know him a little better.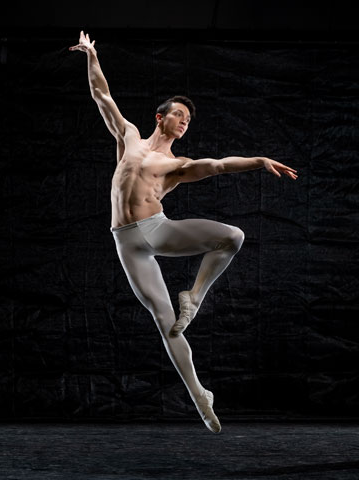 When did you decide you wanted to be a dancer? The second someone told me I couldn't.
How have you grown in the past year with the company? Since beginning with the company, I have come to realize how integral stage presence and artistry are to a strong performance. Watching and learning from the other amazing dancers every day has really encouraged me to become a better performer myself.
What is a typical day like for you during the season? During the season, a typical day is very long. We usually get a few breaks throughout the day, and during these breaks, my favorite thing to do is get coffee or lunch with friends.  Rehearsals are interesting — they can either last all day or sometimes I'll be able to go home after only an hour, depending on what we are working on. After dancing all day at rehearsal, I teach three days a week at studios in and around Omaha.
You can ask six people – living or dead, famous or not – to dinner. Who would you invite? Svetlana Zakarova, George Balanchine, Leighton Meester, my grandma, Sarah Jessica Parker, and Britney Spears.
What are you really good at? In dance — sissones. Outside of dance – painting.
What are you looking most forward to this season? I am especially excited for The Wizard of Oz. It was one of my favorite movies as a child and I'm eager to see where Miss Erin [Alarcon] takes it.
What advice would you have for your younger self or those younger dancers training for a future dance career? Teachers want the best for you even if it may not outwardly seem that way to you. I would also recommend that younger dancers be open-minded about exploring and understanding different styles. At the end of the day, the more you know, the further you will go.
—
American Midwest Ballet season subscriptions are on sale now through Sept. 1 for Season 9 performances.
Single tickets are on sale at Ticket Omaha after Sept. 1.