SAN ANTONIO, TX – July 16, 2018 – ARTS San Antonio will celebrate its 2018-19 Tricentennial Celebration Season with four special presentations of  American Midwest Ballet's The Nutcracker, in collaboration with San Antonio Metropolitan Ballet for the holiday season.  
American Midwest Ballet, formerly Ballet Nebraska, will perform four times at Lila Cockrell Theater on Thursday, December 20, 2018 at 7:30 p.m., Friday December 21, 2018 at 7:30 p.m., and Saturday, December 22, 2018 at 2:00 p.m. and 7:30 p.m.
John Toohey, president and executive director of ARTS San Antonio, is excited to present the Texas premiere performances of American Midwest Ballet [AMB] in The Nutcracker this December.
"AMB, a prestigious professional ballet company based in Omaha, was brought to our attention by our colleagues at San Antonio Metropolitan Ballet," says Toohey.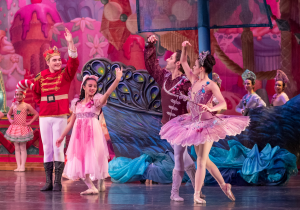 "Adding American Midwest Ballet to our mix increases the impact consistent with our values of entertainment, enrichment and education for San Antonio area audiences and aspiring dancers," Toohey continued.

ARTS San Antonio has presented The Nutcracker  to San Antonio audiences since 1992.
In each of those years, as many as 100 area dance students and children from the San Antonio area have appeared in youth roles in The Nutcracker.
"American Midwest Ballet is thrilled to perform our production of The Nutcracker in San Antonio this season," says American Midwest Ballet's artistic director and CEO, Erika Overturff about the upcoming performances.
"We look forward to having the talented young dancers in San Antonio join our professionals on the stage. We love sharing our version of this beloved holiday classic."
In addition to performances in San Antonio, AMB will also tour to Florida this season — two climates much warmer than the Omaha-based company is used to in winter.
Says Overturff, "we will be sure to bring plenty of "snow" with us this December!"
Auditions for this year's production will be held on Monday, August 6, 2018 at San Antonio  Metropolitan Ballet, 2800 N.E. Loop 410 #307, 78218.
Tickets are available online at www.artssa.org, www.ticketmaster.com, or by calling (210)226-2891.