OMAHA — Aug. 5, 2018 —  There wasn't a singular defining moment that led Alyssa Grimsley to become a professional ballet dancer.  In fact, as a young dance student, she denied she ever would.
"Even as a child, I knew ballet was hard on your body," says Alyssa.
It is also a career that not all who venture can gain.
For Alyssa,  becoming a professional ballet dancer was "a slow-building dream that suddenly became a reality" as she followed the path that led her to this career.
"I just never stopped," says Alyssa. She continued training throughout high school, eventually graduating from the University of Oklahoma School of Dance and auditioning for companies — successfully!
Dreams don't come true overnight while you're sleeping. It takes time, effort, and patience–and being completely awake and fully engaged every single day.
"I cannot imagine not having pursued ballet as my career!"
The company just finished its first week back for Season 9. What did you do over summer break to stay in shape for such a demanding schedule?
During break, I focused on cross-training and strengthening my body in other areas to correct muscular imbalances in ways that dancing doesn't always provide — yoga, elliptical, weights and swimming.

Whenever I am in "non-dancer" mode, I also try to focus on self-care and finding rest. I like being refreshed, physically and mentally, to start a new season strong.
You have been with the company for several seasons now. What are some of the things you've enjoyed as you've watched the company grow and evolve?
I love seeing the company grow in stature and reputation as we transition into American Midwest Ballet this season.
There is a great sense of community and camaraderie in this company, and it's rewarding to see our progress and the bright future ahead.
The dancers have grown together in corps work by trusting each other's movement. I have also enjoyed the opportunity with more dancers to perform larger works in our repertoire.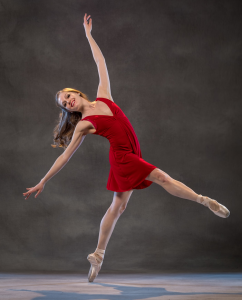 How do you feel you've grown and evolved personally as a dancer? 
I feel that I have grown the most in an artistic sense. Technique is always a priority, but I have found maturity and more of my personality now in my dancing.
I love having the freedom to explore my artistry with creativity, whether I'm performing a character or abstract role.
Where do you see yourself in five years?
In five years I hope to still be dancing with American Midwest Ballet! My goals also include returning to school to pursue a second career in the field of physical therapy or health and wellness coaching.
And somewhere in that mix I hope to start a family!
What are you looking most forward to this season? 
I look forward to Erika [Overturff]'s Rhapsody in Blue.  I've loved that piece of George Gershwin music from a very young age, so I am excited to finally dance to it!
I always love performing full length ballets. as well, so I'm very excited for Erin Alarcon's The Wizard of Oz in the spring.
What is one thing you do well outside of dance?
One of my favorite pastimes is to sit for a few hours and just experiment on the piano with my favorite songs.
Although I studied piano for seven years, my talent is playing by ear.  I like to figure out and arrange songs, classical or popular, on the piano by listening to my iPod or  just by tracing the melody in my head.
What is a typical day for you during the season?
On a typical day, I'll wake up around 7:30 a.m. and have my routine coffee and oatmeal. I spend significant time packing food for the day. I pack plenty of produce, and snacks to keep me going for what are  sometimes 12-hour days.
I like to have at least a half-hour before class to do my series of Pilates exercises, foam rolling, and get focused for the day.
After rehearsals end around 4:00 p.m.,  I often spend the evening teaching until about 9:00 p.m.  If it's a lucky afternoon off, I enjoy cooking in the evening, relaxing, and spending time with my (new!) husband and dog.
What advice do you have for your younger self or those younger dancers training for a future dance career? 
I was such a perfectionist and just beat myself down when I couldn't nail something, when I was having a bad class, or when one not-so-good moment seemed to shatter a performance.
To young dancers, I would say give yourself ample patience and remember why you love to dance.  Each day is a new day. You only have the body you are given, and you have to make the most of every opportunity with passion and perseverance.
___________________________________________
American Midwest Ballet season subscriptions are on sale now through Sept. 1 for Season 9 performances.
Single tickets are on sale at Ticket Omaha after Sept. 1.