Now hear this, G.I. Joes and Rosie the Riveters – American Midwest Ballet wants you!
20% discount for active-duty service members
We're looking for active-duty service members who would like to save 20% on tickets to our April 11 performance of Swing, Swing, Swing! at Omaha's Orpheum Theater. Just visit TicketOmaha.com and use the code HERO.
Free tickets for WW II veterans
and war workers
Better yet, we're offering a 100% discount – in other words, a free ticket* – to any World War II-era veteran or war worker who would like to attend the April 11 performance at the Orpheum!
"Our free-ticket offer is for any American who participated in the war effort between 1941 and 1945," said Erika Overturff, AMB's artistic director. "They may be in their 90s now, but we know plenty of 90-year-olds who are still active and enjoy a night out.
"We hope we'll see soldiers, sailors, Marines, airmen, and Coast Guardsmen, plus people who served with such groups as the Red Cross and USO, take advantage of this offer.
"And we'd love to give free tickets to the real-life Rosie the Riveters who worked at war plants such as the Martin bomber factory in Bellevue and World Radio Laboratories in Council Bluffs."
If you know a World War II veteran or war worker who would enjoy attending Swing, Swing, Swing!, please email hannah@amballet.org and include the recipient's name, contact information, date of birth, and a bit of his or her war-era history.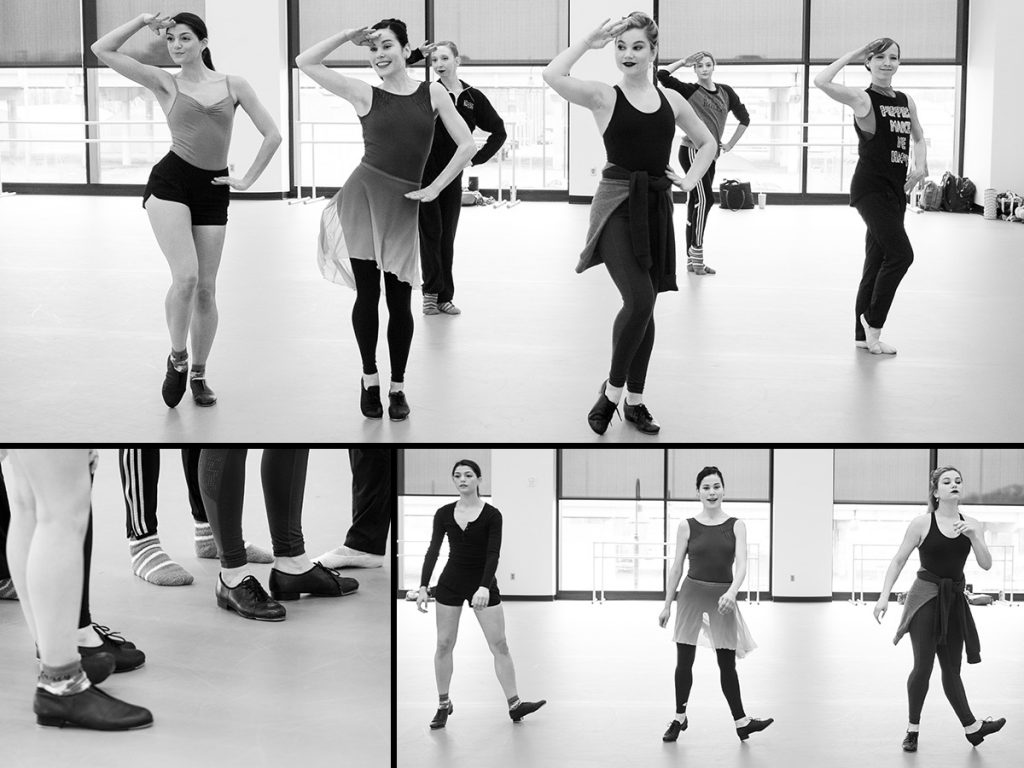 A swinging tribute
Swing, Swing, Swing! is a tribute to the Second World War's "Greatest Generation," with a central love story framed by dance vignettes that draw on the era's popular styles, backed by Big Band music performed live onstage by the DoyleMusic Combo.
"It's terrifically entertaining because it's so varied," Erika said. "Harrison McEldowney, the choreographer, has an amazing creative range – he choreographs for everything from classical ballet companies to cruise ships, and the Olympics to Carnegie Hall. In Swing, Swing, Swing! he incorporates jiving G.I.s, tap dancers, Lindy hoppers, and Rosie the Riveters en pointe. There's a beautiful movie-musical-style romantic duet that rolls right into a full-on bar fight. The dancers love performing this ballet because they get to use so much of their movement vocabulary."
"It would be tremendously gratifying for all of us to share this performance with real-life G.I. Joes and Rosies who were part of that era and remember the time, the dances, and the music."
---
*Terms and conditions: Free ticket offer is limited to one ticket per World War II-era service member or war worker, may not be combined with any other offers and is subject to availability. All decisions by American Midwest Ballet are final with respect to this offer.